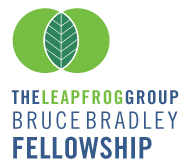 National non-profit hospital watchdog, The Leapfrog Group, launched today the Bruce Bradley Fellowship, a year-long educational program named in honor of Bruce E. Bradley, a founding member and first chair of The Leapfrog Group Board of Directors and former Director of Health Care Strategy and Public Policy for General Motors Health Care. The fellowship is designed to grow and refine skills in measurement of and advocacy for health care quality and safety.
The Leapfrog Group is seeking three to six candidates to participate in the 2016 Fellowship program. After the training, fellows will become recognized leaders, facilitating and promoting employers' selection of higher quality, safer hospitals and health systems.
"Fellows will have the opportunity to learn from and speak with national experts in the areas of hospital safety, quality improvement, national health policy, health benefit plan design, and health industry leadership," said Leah Binder, president and CEO of The Leapfrog Group. "We're excited at the opportunity to foster the skills of future health care leaders."
The Leapfrog Group seeks candidates that are experienced professionals actively working with or for organizations that purchase health care for employees or who lead community organizations such as coalitions advocating for purchasers. Candidates must be passionate and enthusiastic about promoting purchasers' role in health care system improvement, demonstrate an ability to design and implement innovative ideas, and possess skills to influence purchasers and health systems in their communities.
"Employers, both public and private, working together can provide a powerful and constructive force in driving improvement in patient safety, quality, cost and population health," said Bruce E. Bradley. "I hope the fellowship will play a valuable role."
The deadline to submit applications is October 15, 2015. Fellowship recipients will be announced at The Leapfrog Group's 15th Anniversary Gala on December 1. Each fellow will be awarded $5,000 and receive education at no additional cost. If interested in applying, please click here.