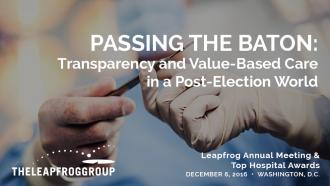 The theme for this year's meeting is "Passing the Baton: Transparency and Value-Based Care in a Post Election World." At the meeting, we will explore how national initiatives and regional momentum around transparency and value-based care may shift with a new administration. 
The day will conclude with our 2016 Top Hospital Awards Ceremony and Dinner, commemorating 10 years of honoring the highest-performing hospitals on the Leapfrog Hospital Survey. 
Will you join us?
Explore the agenda and read up on our speakers!