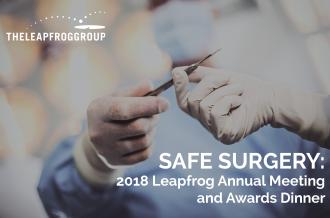 Register for the 2018 Leapfrog Annual Meeting and Awards Dinner on December 4, 2018 at the JW Marriott in Washington D.C.
Speakers include Vice Admiral Raquel Bono, Director of the Defense Health Agency; Adam Stavisky, Senior Vice President of U.S. Benefits at Walmart; Olivia Ross, Associate Director of Employers Centers of Excellence Network at the Pacific Business Group on Health (PBGH); David Goldhill, Leapfrog Board Chair and Former Chief Executive Officer at the Game Show Network (GSN); and Leah Binder, President and Chief Executive Officer at The Leapfrog Group. 
Check back for more details in the coming weeks. We look forward to seeing you at our meeting! 
Click here to learn about sponsorship opportunities.