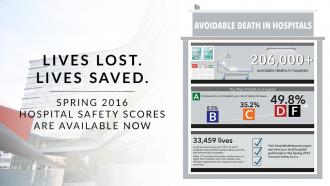 The Leapfrog Group announced today the Spring 2016 Hospital Safety Score update, assigning letter grades to more than 2,500 U.S. hospitals, assessing medical errors, accidents, injuries and infections.
Alongside the update, Leapfrog contracted with Johns Hopkins Medicine's Armstrong Institute for Patient Safety and Quality on a new report estimating the number of avoidable deaths at hospitals in each grade level. The analysis finds that despite considerable improvement in the safety of hospital care since the Score's launch in 2012, avoidable deaths remain high. Findings point to a 9% higher risk of avoidable death in B hospitals, 35% higher in C hospitals, and 50% higher in D and F hospitals, than in A hospitals.
To read the full release, explore the analysis by Johns Hopkins researcher Matt Austin, and check updated hospital grades, go to the Hospital Safety Grade website.