In the U.S., nearly one in three women gives birth by cesarean section.
According to The American College of Obstetricians and Gynecologists and the Society for Maternal-Fetal Medicine, cesarean birth is too common in the United States and has increased greatly since it was first measured in the 1960s.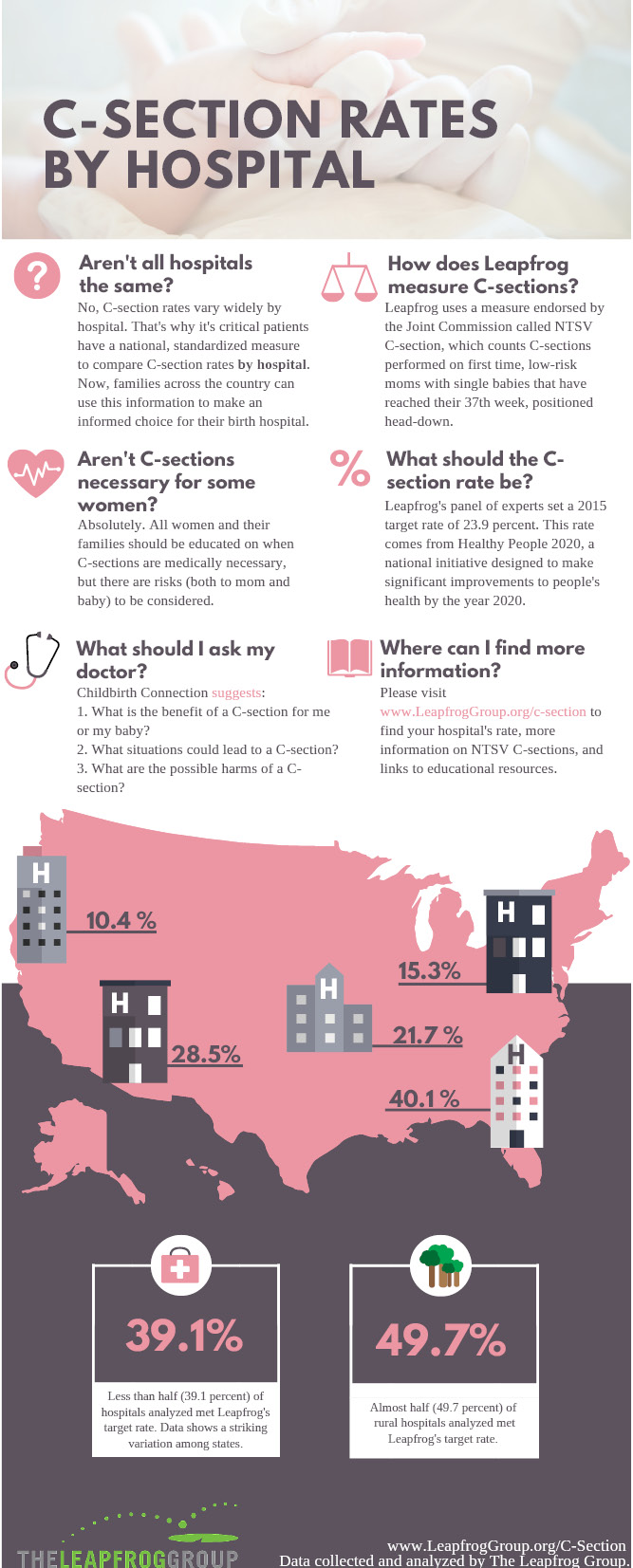 Cesarean sections carry serious risks of infection or blood clots, and many women experience longer recoveries and difficulty with future pregnancies. C-sections can also cause problems for babies, like breathing difficulties that need treatment in a newborn intensive care unit (NICU). In the long-term, research shows that C-sections can cause chronic pelvic pain in some women, and babies born by C-section are at increased risk of developing chronic childhood diseases like asthma and diabetes.
Thanks to a partnership with Childbirth Connection, we have designed this page to help women and families understand our C-section results, learn about the risks and benefits of C-sections, and ultimately make more informed choices about their birth hospital. 
View Leapfrog Hospital Survey Results here.
How we measure cesarean sections
Hospital Case Study.
Learn how Virginia Hospital Center lowered its NTSV C-section rate to meet Leapfrog's standard
Never before have purchasers or patients had a single, standardized C-section rate to compare by hospital at the national level. 
The Leapfrog Hospital Survey uses a tested, validated measure endorsed by the Joint Commission, National Quality Forum (NQF) and CMS. The NTSV C-section measure identifies pregnancies that are unlikely to need surgical intervention during labor. 
With the guidance of its Maternity Care Expert Panel, The Leapfrog Group adopted the cesarean section target rate (23.9%) proposed by HealthyPeople.gov's 2020 initiative, which seeks to improve the health and well-being of women, infants, children and families by the year 2020. 
By voluntarily reporting their C-section rate to the Leapfrog Hospital Survey, hospitals are showing dedication towards transparency, which is an important first step in lowering their rate. 
Resources for women
There will always be cases where C-sections are medically necessary, but experts agree that doctors perform far too many. Learn more about how to protect yourself and your baby from unnecessary C-sections.
What Every Pregnant Woman Needs to Know about Cesarean Section
Pathway to a Healthy Birth (Infographic)
Pathway to a Healthy Birth (Booklet)
Camino Hacia un Parto Saludable (booklet)
Recommendations to Limit Labor and Birth Interventions
Why is the U.S. Cesarean Rate So High?
Cesarean Trends in the United States: 1989-2015
Cesarean Prevention Recommendations
The Cost of Having a Baby in the United States
Resources for providers
CDC - National Vital Statistics Reports: Maternal Morbidity for Vaginal and Cesarean Deliveries
ACOG - Creating a Public Agenda for Maternity Safety and Quality in Cesarean Delivery - Elliott Main
CMQCC -  Cesarean Deliveries, Outcomes, and Opportunities for Change in California: Toward a Public Agenda for Maternity Care Safety and Quality
NAMD - Low-risk, Primary Cesarean Births in Medicaid: NAMD/AMCHP Issue Brief
PBGH - Report: Variation in NTSV C-section Rates Among California Hospitals
View Leapfrog Hospital Survey Results here.