2019 Survey results are now available. Search for hospitals in your area.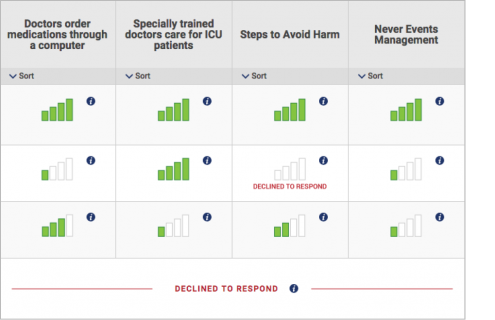 Choosing the Best Hospital for You.
Choosing a hospital doesn't have to be a daunting task—as long as you have the right tools. The Leapfrog Hospital Survey results can tell you a lot about a hospital, and if it provides safe, high-quality care.
Nearly half of all U.S. hospitals voluntarily provide data to our annual survey, and we put the data at your fingertips. Whether you want to know about a hospital's C-section rate, safety protocols, or how frequently patients have to be readmitted, you'll find it all here. Look for hospitals with four green bars on the issues that matter to you. These hospitals have fully met the most rigorous standards set by our volunteer health care safety and quality experts. 
A Commitment to Transparency
We thank the hospitals that have chosen to demonstrate their commitment to transparency and continuous improvement through their participation in the Leapfrog Hospital Survey. To learn more about the annual Survey and how we get the data, please follow the links below.