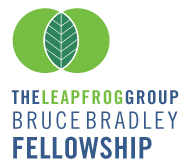 Named in honor of The Leapfrog Group's first Board Chair, The Bruce Bradley Fellowship is a year-long education and training program for corporate-health professionals who want to take an active role in steering employees and their families to safer, higher-quality hospitals and health systems.
Fellows will gain expertise in measurement of and advocacy for hospital quality and safety, as well as effective methods of steerage. After training, Leapfrog expects that fellows will become recognized leaders, facilitating and promoting employers' selection of higher-quality, safer hospitals and health systems locally, regionally and nationally.
Applications for the 2018 Bruce Bradley Fellowship are open now through October 20, 2017. Apply today! 
 
The Class of 2017
Terrisca Des Jardins, Administrative Director, Physician Organization of Michigan ACO
Kendra Gipson, Director, Vendor Services & Contracts, State of Tennessee, Benefits Administration
Jill Hutt, VP and Director of Member Services, Greater Philadelphia Business Coalition on Health
Bret Jackson, President, The Economic Alliance for Michigan
Angela Mattie, Chair & Professor, Healthcare Management & Organizational Leadership, Quinnipiac University
Jonathan So, Senior Director of Healthcare Initiatives, Detroit Regional Chamber
Marnie Vaughan, Director of Benefits, Compensation and HRIS, Severn Trent Services
See what our class of 2017 has to say about the program:
"The Bruce Bradley Fellowship has broadened and deepened my knowledge about quality and safety transparency through collaboration with the Leapfrog executives, hospital executives, policy experts, and the other six Fellows in my group. This kind of professional education could only be gained from this unique experience."

- Jill Hutt, Greater Philadelphia Business Coalition on Health, 2017 Bruce Bradley Fellow

"The Leapfrog Group's Bruce Bradley Fellowship provides an incredible opportunity to learn from Leapfrog Group leadership, including Bruce Bradley himself, other industry leaders and other fellows to gain a thorough understanding of the importance of patient safety, measuring and reporting safety indicators, and being transparent with patients and families about safety events when they occur. From discussions with leading policy makers, to site visits with C-suites of high fidelity health systems and hospitals, the fellowship allowed me to more fully consider the roles and responsibilities all of us in health care have to ensure safe, quality care for all patients."

- Terrisca Des Jardins, Physician Organization of Michigan ACO, 2017 Bruce Bradley Fellow
---
The Bruce Bradley Fellowship is funded in part by individual and corporate contributions. If you are interested in contributing to this program, please contact info@leapfroggroup.org