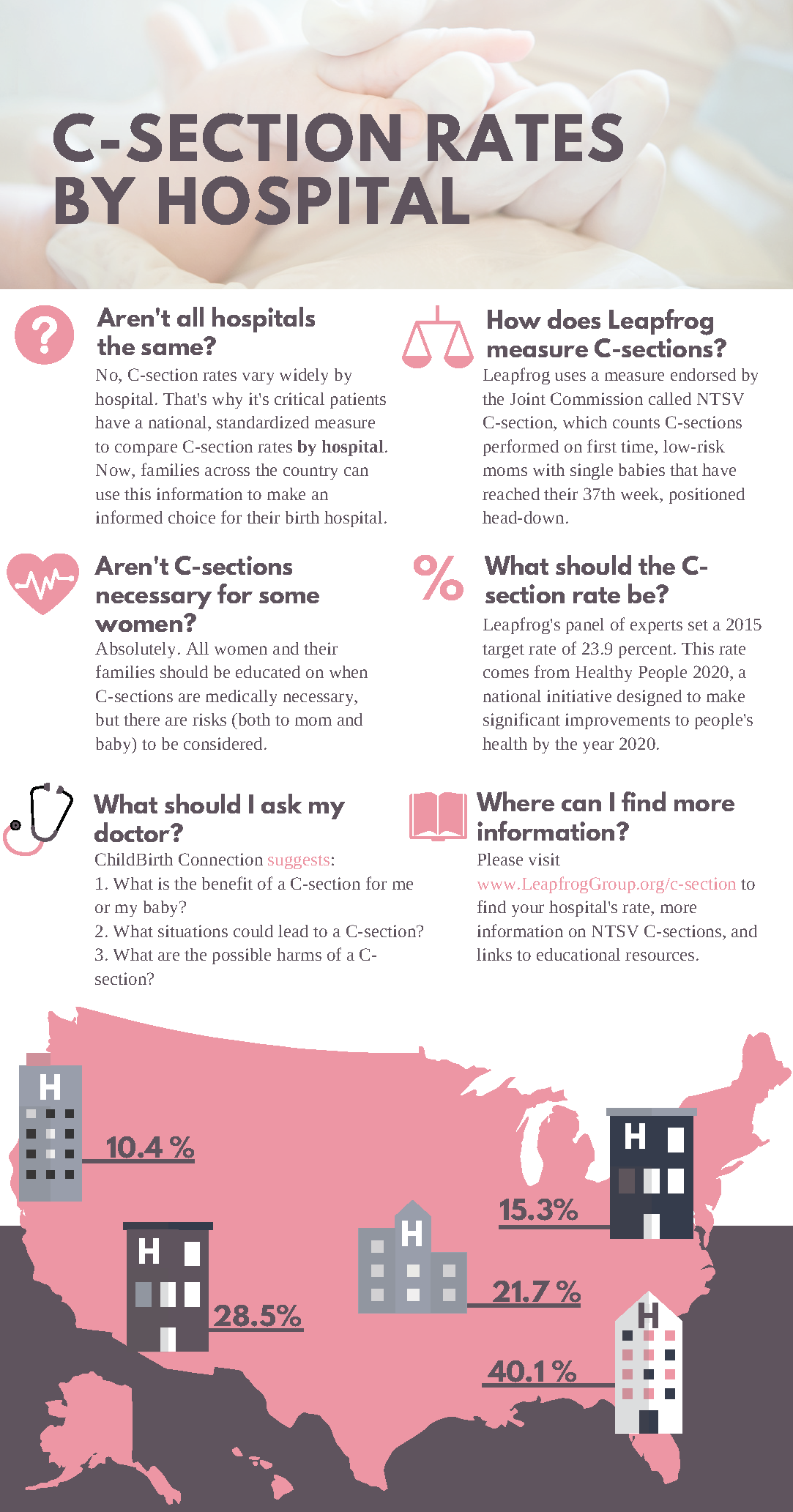 After championing a drastic reduction in the occurrence of early elective deliveries at hospitals, The Leapfrog Group today released new information on hospital rates of cesarean sections (C-sections). Never before have purchasers or patients had a single, standardized C-section rate to compare by hospital at the national level. Now, families across the country can use this critical information to make an informed choice for their birth hospital. 
Of the hospitals analyzed this year, less than half (39.1 percent) met Leapfrog's target rate. Among reporting rural hospitals, 49.7 percent achieved the target rate of 23.9 percent or lower, whereas only 36.8 percent of urban hospitals met the target. States like Utah and Idaho excelled with average rates less than 20 percent, whereas others like Kentucky and Florida failed to achieve the target, with average rates over 32 percent. This striking variation was apparent even within individual communities. For example, in one northeast metro area, hospital rates ranged from less than 26 percent to over 40 percent.
"We were dismayed to find that over half of reporting hospitals failed to achieve our target rate for C-sections," said Leah Binder, president and CEO of The Leapfrog Group. "This means that far too many women are undergoing a major abdominal surgery without medical necessity – with all the risks that any surgery entails. The good news is that by reporting to Leapfrog these hospitals are transparent about this problem, which is an important step toward solving it. I'm more worried about the hospitals that declined to report their rates."
These findings came from Leapfrog's annual hospital survey, for which 1,122 hospitals reported a C-section rate. Endorsed by The Joint Commission, National Quality Forum (NQF), and CMS, the C-section measure identifies pregnancies that are unlikely to need surgical intervention during labor. The measure, Nulliparous Term Singleton Vertex Cesarean Section Rate (NTSV C-Section), counts first-time pregnancies (nulliparous) that have reached the 37th week or later mark (term) and consist of one fetus (singleton) in the head-down position (vertex). Leapfrog's panel of experts recommended an initial target rate of 23.9 percent, derived from Healthy People 2020, a national initiative designed to make significant improvements to people's health by year 2020. Each year, Leapfrog's expert panel will review the target rate to ensure hospitals are held to the highest standards of care.
"This is really about how well we, as doctors, nurses, midwives, and hospitals, support labor," said Elliott Main, M.D., chair of Leapfrog's Maternity Care Expert Panel and medical director of Stanford's California Maternal Quality Care Collaborative. "Hospital staff that support labor appropriately and are sensitive to families' birth plans are shown to have lower C-section rates overall. If we want to improve this rate across the board, then hospitals must hold themselves to this standard to ensure safe short- and long-term outcomes for both mom and baby."
C-section rates have been steadily climbing over the past 40 years and experts agree this rise isn't safe or cost effective. According to The American College of Obstetricians and Gynecologists and the Society for Maternal-Fetal Medicine, cesarean birth is too common in the United States and has increased greatly since it was first measured in the 1960s.
"There will always be cases where C-sections are necessary; however, hospital leaders and clinicians need to reduce the number of women having major surgery who do not face a health risk to either herself or baby during labor and birth," said Debra Bingham, DrPH, RN, a member of Leapfrog's Maternity Care Expert Panel and vice president of Nursing Research, Education, and Practice at the Association of Women's Health, Obstetric & Neonatal Nurses (AWHONN). "The health care community must play an active role in educating women and their families on the short- and long-term risks associated with C-sections so they are able to make informed decisions."
Although cesarean sections are medically required in some instances, these births pose a risk of infection, result in longer hospital stays and use of specialty medical services, and amount to significantly higher costs for families and employers. The average costs across all payers associated with C-sections amount to 50 percent more than average payments with vaginal births.