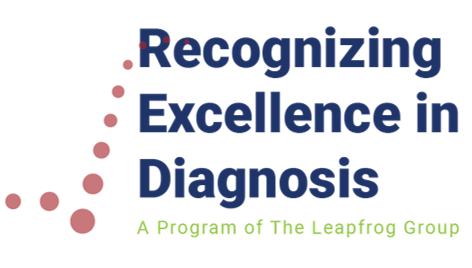 Recognizing Excellence in Diagnosis is a national initiative to publicly report and recognize hospitals for preventing patient harm due to diagnostic errors. The multiyear project is funded with a grant of $1.2 million by the Gordon and Betty Moore Foundation, 
The goals of the initiative are to:
Build national consensus recommending practices hospitals can adopt to improve diagnostic quality and safety​

Collect data from a pilot group of 100 hospitals​

Publicly report data, engage consumers, and foster accountability​
NEW: Diagnostic Safety and Quality Webinar Series: Overview and Implications for Hospitals
Leapfrog's 2024 Hospital Survey will feature new fact-finding questions to assess how hospitals have approached diagnostic safety and quality, including both steps taken to reducing missed or incorrect diagnoses and encouraging the effective communication of diagnoses to patients, their caregivers, and providers. Before the launch, Leapfrog will provide a free webinar series to review what diagnostic errors are and how they affect care in hospitals, describe resources available to hospitals to make an immediate impact on their quality of care, and learn from hospitals that have made tremendous progress on their journey to reduce diagnostic errors. Each webinar will include opportunities for discussion, and a chance to have all your questions answered.
Register for the Webinar Series
NEW REPORT: Recognizing Excellence in Diagnosis: Recommended Practices for Hospitals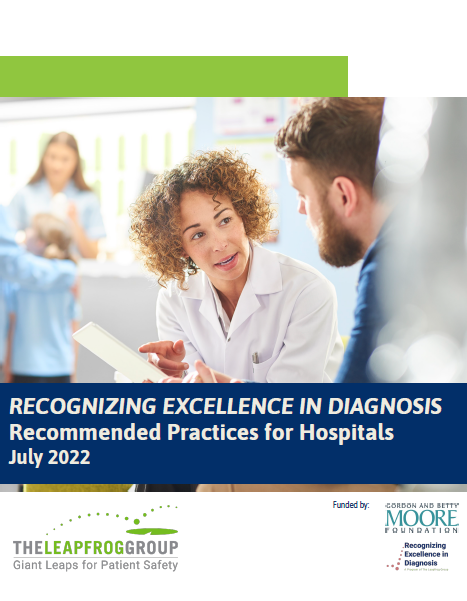 The Leapfrog Group released the report Recognizing Excellence in Diagnosis: Recommended Practices for Hospitals. This landmark report is the result of an intensive year-long effort bringing together the nation's leading experts on diagnostic excellence, including physicians, nurses, patients, health plans, and employers. Together, the multi-stakeholder group reviewed the evidence and identified 29 evidence-based actions hospitals can implement now to protect patients from harm or death due to diagnostic errors. Read the report.
Why We Need to Address Diagnostic Errors
A 2015 National Academies of Sciences, Engineering and Medicine landmark report Improving Diagnosis in Health Care highlighted the magnitude of the harm associated with diagnostic errors, possibly accounting for some 40,000 – 80,000 deaths annually, within the top ten causes of death nationally.

The report concluded that "most people will experience at least one diagnostic error in their lifetime, sometimes with devastating consequences."

An estimated 12 million Americans will experience a diagnostic error in primary care each year, and another 250,000 will be harmed by a diagnostic error as an inpatient.
An analysis found that diagnostic errors are among the leading causes of malpractice claims in almost every large database, and amongst all claims, are responsible for the most harm and the highest costs.