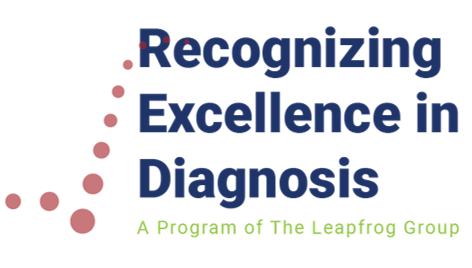 Recognizing Excellence in Diagnosis is a new national initiative to publicly report and recognize hospitals for preventing patient harm due to diagnostic errors. The project, funded with a grant of $1.2 million by the Gordon and Betty Moore Foundation, will be conducted over two years. 
The goals of the initiative are to:
Build national consensus recommending practices hospitals can adopt to improve diagnostic quality and safety​

Collect data from a pilot group of 100 hospitals​

Publicly report data, engage consumers, and foster accountability​
---
Participate in the Recognizing Excellence in Diagnosis Pilot Survey
Leapfrog is hosting a informational webinars for hospitals interested in volunteering for the Pilot Survey in fall 2022
---
NEW REPORT: Recognizing Excellence in Diagnosis: Recommended Practices for Hospitals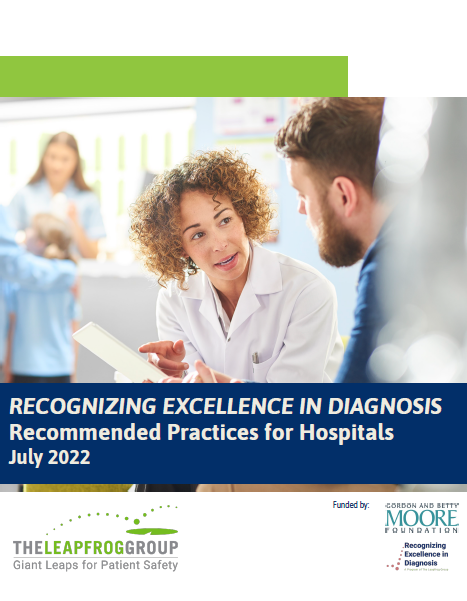 The Leapfrog Group released the report Recognizing Excellence in Diagnosis: Recommended Practices for Hospitals. This landmark report is the result of an intensive year-long effort bringing together the nation's leading experts on diagnostic excellence, including physicians, nurses, patients, health plans, and employers. Together, the multi-stakeholder group reviewed the evidence and identified 29 evidence-based actions hospitals can implement now to protect patients from harm or death due to diagnostic errors. Read the report.
Key partners on the initiative include The Society to Improve Diagnosis in Medicine (SIDM), Hardeep Singh, MD, MPH, a patient safety researcher at Center for Innovations in Quality, Effectiveness and Safety (IQuESt) based at the Michael E. DeBakey VA Medical Center and Baylor College of Medicine, Houston; Mark L. Graber, MD, FACP, SIDM Founder and President Emeritus; and Matt Austin, PhD, Assistant Professor, Armstrong Institute for Patient Safety and Quality at Johns Hopkins Medicine.  
Get Involved
Sign your hospital up to participate in the 2022 Pilot Survey by contacting the Leapfrog Help Desk.
National Advisory Group
The National Advisory Group, co-chaired by Drs. Hardeep Singh and Mark Graber, is made up of Leapfrog and Society to Improve Diagnosis in Medicine representatives, patient and payor stakeholders, along with diagnosis and performance analysis experts. The panel will play a crucial role in identifying best practices in diagnosis and developing a guide for hospitals and health systems to achieve excellence.
Shantanu Agrawal, MD, MPhil, Anthem
Jeffrey Brady, MD, MPH, Agency for Healthcare Research and Quality (AHRQ)
Michael Bruno, MD​, Hershey Medical Center​
Robert El-Kareh​, MD, MPH, MS, University of California San Diego​
Kelly Gleason​, PHD, RN, Armstrong Institute Center for Diagnostic Excellence ​
Peter Hayes, Healthcare Purchaser Alliance of Maine​
Nancy Jester​, Walmart Centers of Excellence​
Sherry McCoy​, MSN, RN, CCM, Cigna​

Kenneth Michelson, MD, MPH, Boston Children's Hospital

Lavinia Middleton, MD​, MD Anderson Cancer Center
Stephen Muething​, MD, Cincinnati Children's Hospital​
Stephen Raab, MD,  Agency for Healthcare Research and Quality (AHRQ)
Sue Sheridan, Society to Improve Diagnosis in Medicine
Divvy Upadhyay​, MD, MPH, Geisinger  ​
Julie Wright​, MSNEd, RN, Intermountain​ Healthcare
Why We Need to Address Diagnostic Errors
A 2015 National Academies of Sciences, Engineering and Medicine landmark report Improving Diagnosis in Health Care highlighted the magnitude of the harm associated with diagnostic errors, possibly accounting for some 40,000 – 80,000 deaths annually, within the top ten causes of death nationally.

The report concluded that "most people will experience at least one diagnostic error in their lifetime, sometimes with devastating consequences."

An estimated 12 million Americans will experience a diagnostic error in primary care each year, and another 250,000 will be harmed by a diagnostic error as an inpatient.
An analysis found that diagnostic errors are among the leading causes of malpractice claims in almost every large database, and amongst all claims, are responsible for the most harm and the highest costs.
Resources
In the News
Speaking Engagements 
IHI Patient Safety Congress 2022; Dallas, TX: Transforming Diagnostic Safety from the Bronze Age to a Golden Era: Innovative Approaches for Measurement, Feedback, and Benchmarking