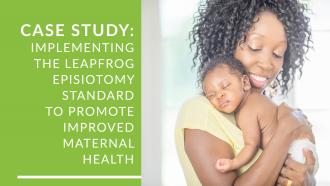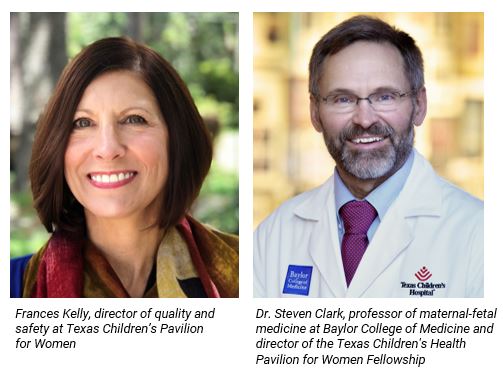 Episiotomies are surgical procedures involving an incision at the vaginal opening during childbirth intended to reduce the duration of labor and prevent tissue disruption. They were once common practice, but over the past three decades, doctors have increasingly recognized that the procedure offers limited benefit while increasing delivery complications and the risk of death among women in labor. Due to these concerns, the American College of Obstetricians and Gynecologists (ACOG) has called for the restricted use of episiotomy, which has been firmly linked to lower rates of perineal injury.
The Leapfrog Group introduced a new National Quality Forum (NQF) endorsed measure on episiotomies to the Leapfrog Hospital Survey in 2012. Under the guidance of Leapfrog's Expert Panel, the initial standard called on hospitals to perform episiotomies in 12 percent or less of vaginal births. In 2015, Leapfrog lowered its target rate to five percent or less of total vaginal births in response to new data and evidence indicating the limited degree to which episiotomy should be used.
In the following interview, Frances Kelly, director of quality and safety at Texas Children's Pavilion for Women, and Dr. Steven Clark, professor of maternal-fetal medicine at Baylor College of Medicine and director of the Texas Children's Health Pavilion for Women Fellowship, explain how the hospital made this change and offer key insights for other hospitals seeking to do the same.
To learn more about the steps Texas Children's Pavilion for Women took to address this challenge, read the full case study. 
Leapfrog: Why did Texas Children's Hospital make it a priority to lower its episiotomy rate in 2012, even though it met Leapfrog's standard at the time? 
Read the Full Case Study.
Clark: We thought we could do even better.
Kelly: When we first opened the Pavilion for Women in March of 2012, there was support and commitment from our senior leaders to eliminate preventable, adverse events associated with unnecessary procedures. The vision for the pavilion was that it should be viewed by patients, the community and colleagues as providing the best possible care, and that has remained our vision. And so that set our bar high, and we've tried to remain committed to that.
Leapfrog: What was the outcome?
Kelly: Remarkably, we saw a 62.2% reduction in five years. When we first started, our baseline rate was 9.11% and though it was still below Leapfrog's benchmark at the time, we were eager to lower this even further. With Leapfrog's standard now 5%*, we're proud to share our rate is down to 3.44%.  
*In 2015, at the guidance of its expert panel, Leapfrog reduced its target rate for episiotomy to 5% from 12%, to further reflect literature indicating the limited degree to which episiotomy should be used.
Leapfrog: What factors do you think contributed to your success?
Kelly: By and large, we set stretch goals and were dedicated to meeting them. We developed a taskforce to help oversee these efforts and through that group, we educated staff and worked together towards a common goal – one that at first might have felt unobtainable, but that we rapidly exceeded.
Clark: Additionally, we saw the Hawthorne effect have a profound impact on our efforts. Also called the "observer effect," this describes the phenomenon of individuals modifying their behavior when they know they are being observed. Essentially, transparency allowed providers to see how they were performing compared to others – data which they previously didn't have access to. With this in hand, the providers worked to do their best to decrease their rates. Though some feel that this isn't an effective long-term method for change, we've continued to see sustained positive results over time even after this program of formal notification was stopped.
Leapfrog: Did you experience any unintended consequences from efforts to reduce episiotomies such as higher laceration rates?
Kelly:  While the episiotomy rate decreased significantly over time, there was no increase in the rates of balancing measures of third or fourth degree perineal lacerations.
Leapfrog: What support or rationale did your hospital board and leadership request to put this into motion?
Clark: What we are striving for is excellent clinical care. We're not reinventing the wheel, but making sure people understand what the standards and expectations are.
Kelly: We've gotten an incredible amount of support from our CEO, Mark A. Wallace, who has absolutely held us to the highest standard before we even opened. And the providers – doctors, nurses, respiratory therapists, hospitalists –  are committed to improvement.
Leapfrog: How do you maintain your low rate of episiotomy today?
Clark: The rate continues to drop. More importantly, we are fortunate to have a group of practitioners at Texas Children's Hospital who are both concerned with quality and provide excellent care.
Leapfrog: What advice do you have for other hospitals looking to decrease their rates and meet Leapfrog's standard?
Clark: "Transparency is important. If you're honest about where you stand and you take a look at where you want to be, anything is possible. Our five-phase approach can serve as a guide for all hospitals looking to not just lower their rate of episiotomies, but to improve on other health care metrics as well."
Leapfrog: Why is transparency so important to Texas Children's? How has the Leapfrog Hospital Survey aided you in your efforts to improve hospital safety and quality?
Kelly:  Transparency is a central component to our quality and safety program here at Texas Children's. We believe in being very open with our data. Patients deserve to know how we're performing. Yes, they're influenced by their physicians as to where they may deliver, but there are also savvy women out there who look to see who has a low Cesarean delivery rate, who has a low episiotomy rate. If we don't share the data, we can't know how to improve.
Leapfrog: How did the Leapfrog Hospital Survey and Leapfrog's standard assist in your efforts to improve?
Kelly: I think it was a very direct relationship. We participate in the Leapfrog Hospital Survey. Using the data that is included there helped to drive our metrics, which drove our reporting, and we were able to align our standards and thresholds with the Leapfrog target.