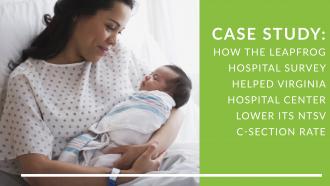 After compiling data for its response to the Leapfrog Hospital Survey in 2014, Virginia Hospital Center  (VHC) discovered its cesarean section rate was higher than the target set by Leapfrog's national maternity care expert panel. The hospital launched a successful multi-year campaign to lower their rate. To learn more about VHC's success, click here and read the following interview with Dr. Jeffrey DiLisi, VHC's chief medical officer.
Read the full case study.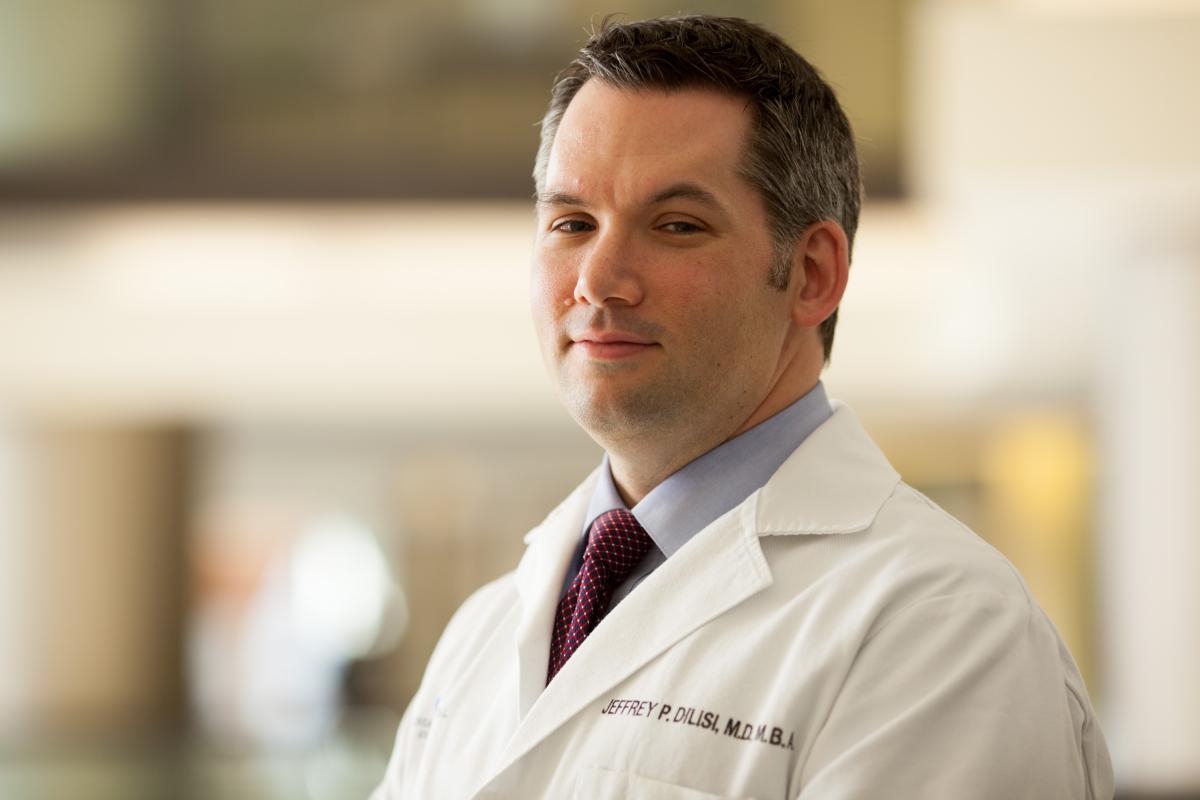 Leapfrog: How did leadership react when learning about the high C-section rate, and was it difficult to get the necessary support to prioritize the issue?
Dr. DiLisi: You always want to be proactive, if possible, but in our situation, we found out our C-section rate was high after compiling data for the Leapfrog Hospital Survey in 2014. At that point, our C-section rate was 33 percent, well above Leapfrog's target rate of 23.9 percent. Once we saw that, we said, "That's not who we are. We're about putting the patient first and this is a big issue."
While there was some initial pushback, the doctors at VHC realized we could improve in this area. We knew it wasn't just a metrics conversation, but a patient safety conversation, which helped us quickly galvanize support.
Leapfrog: What was your process for lowering the C-section rate?
Dr. DiLisi: We took a number of steps, starting with our board of directors focusing our leadership on lowering the cesarean rate. It was a major objective of the CEO and this trickled down to the chief nursing officer, the Women & Infant Health team, members of the quality leadership team and me.
In addition, we appointed one of our OB-GYNs to be the Medical Director of Labor and Delivery. He convened a monthly quality meeting in which a group of obstetricians reviewed every single C-section performed at VHC. He also started posting C-section rates by provider in the OB physician lounge. At that point, the rate began dropping very quickly. Once you start displaying performance publicly like that, good things generally happen.
Leapfrog: How did providers respond?
Dr. DiLisi: No one likes transparency at first, but there are two ways of dealing with it: do nothing and continue to perform poorly, or fix the problem and improve. Ultimately, transparency improves outcomes.
Leapfrog: Have you taken similar steps in other units or departments?
Dr. DiLisi: Yes, we've built an entire quality structure on reporting metrics transparently. For example, at our quality meetings, we routinely report on various safety and quality metrics. We also release all episiotomy rates by doctor and publicly post on-time starts in our surgeons' lounge. We believe reporting is critical for success. Data is what it is. If you don't measure anything, it's impossible to improve.
Leapfrog: You also hold daily safety huddles. Do you believe these help with transparency?
Dr. DiLisi: Yes, we want our leaders to feel comfortable reporting what they're seeing in their individual departments. Our goal isn't to punish our staff, but to help them improve. We believe it's critical to provide a safe culture for people to speak up and provide feedback.
Leapfrog: Now that VHC has decreased its NTSV C-section rate to 20.9 percent, what processes do you have in place to ensure the rate continues to meet Leapfrog's standard? 
Dr. DeLisi: We measure the rate monthly and display it on multiple dashboards around our hospital. In addition, we continue to hold monthly quality meetings and review all C-sections. There are still some physicians who, unfortunately, don't meet the Leapfrog standard, so we're constantly trying to improve and decrease their individual rates and therefore our collective rate.
Leapfrog: In keeping with its commitment to transparency, VHC proudly advertises the steps it has taken to lower its C-section rate on its website. Has there been a positive response from patients?
Dr. DiLisi: Patients don't fully realize the huge variability in C-section rates by hospital. We're still figuring out how to get the message out there, because when we have the opportunity to share the rate with patients, they care.
Leapfrog: What would you like expectant parents to know about the challenge of C-section rates and your efforts to address it?
Dr. DiLisi: I would like expectant parents to know about the variability among hospitals, and to realize it makes a difference for them and their children. Our NICU volume has decreased over the years as we've focused on lowering our C-section rate. We don't see this as a bad thing, because this is the right thing for parents and their babies.
Leapfrog: How does your board impact VHC's commitment to transparency?
Dr. DiLisi: The push for transparency across our organization goes back to our board, which is comprised of physicians, patients and community members. They expect us to report our metrics to them, which promotes patient safety across departments.
For example, our medical executive committee and our board's quality committee meet monthly. Each month, we send both committees our performance across departments on fifty metrics related to safety, readmission, flow, infection prevention and patient perception of quality. If our performance slips in any area, we discuss it as a group and explore ways to improve. The board's quality committee then reports on our meeting to the full board of directors. We are lucky, because our board always supports us in taking whatever steps are necessary and in the best interest of patients.
Leapfrog: What advice would you give to other hospitals interested in lowering their C-section rates?
Dr. DiLisi: Hospitals can be hesitant to be transparent on this issue because they worry obstetricians will be upset. While this might be true, without measurement there won't be improvement. In our situation, having so many members of our organization focused on lowering the C-section rate helped us tremendously. I would tell hospitals to hold providers accountable and don't fear transparency, because it's the easiest way to improve care.
Leapfrog: Finally, why is VHC committed to participating in the Leapfrog Hospital Survey?
Dr. DiLisi: You're putting a spotlight on patient safety and that's important. A few years ago, the Journal of Patient Safety reported up to 440,000 Americans die each year from preventable hospital errors. That's what our patients face when they walk into a hospital. It's staggering when you look at it like that. We're committed to Leapfrog and the spotlight you're trying to put on safety, and believe you're doing important work.