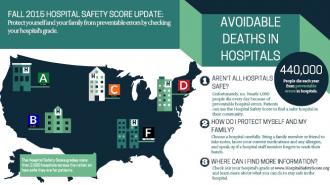 Hospital Safety Scores, released today by The Leapfrog Group, shows key shifts among many hospitals on the letter grades rating them on errors, injuries, accidents, and infections, indicating the importance for consumers to check their local hospital's score. Of the 28 measures used to calculate the A, B, C, D or F grades, on average, hospital performance improved on eight measures, but average performance declined on six measures.
But there are more encouraging signs within the data: hospitals taking steps to make safety a priority, and showing some encouraging results—either by consistently maintaining an "A" score, or by raising a lower score to an "A" over time. Since the launch of the Hospital Safety Score in 2012, 133 hospitals have earned an "A" in each of the twice-annual updates of the Score—approximately 5 percent of all graded hospitals.
"Taking a deeper look at the 133 'Straight A' hospitals reveals a diverse group, similar only in their consistent commitment to patient safety. Hospitals from across the country, with 100 beds to over 750 beds, non-profit and for-profit alike received this top honor," said Leah Binder, president & CEO of The Leapfrog Group, which issues the Hospital Safety Score. "No matter how large or small, no matter what kind of community they serve, all hospitals have the potential to give their patients this high level of safe care."
Included in the list of "Straight A" hospitals are three hospitals in the Baptist Health South Florida system, Chicago's Rush University Medical Center and University of Chicago Medical Center, and Baystate Medical Center and Beth Israel Deaconess Medical Center in Massachusetts.
Binder observed that among hospitals without a perfect track record there are hospitals showing significant improvement. Beckley ARH Hospital, part of the Appalachian Regional Healthcare System in Beckley, West Virginia made one of the most significant jumps ever indicated in the Hospital Safety Score data. From receiving a "D" in Spring 2015, they now are receiving an "A" grade for keeping their patients safe. This hospital now has top scores in Computerized Physician Order Entry (CPOE) and all five measures of safe surgical practices (Surgical Care Improvement Program measures). They also made radical improvements in their scores on Falls and Trauma, the five Patient Safety Indicator measures, and have a rate of zero for central line infections.
"Although no hospital is perfect, our family members, neighbors and colleagues deserve the safest care possible," Binder added. "We urge consumers to put safety first when planning a hospital stay, and we urge hospitals to double down on their commitment to safety."
Despite the powerful stories of improving and high-performing hospitals, improvement across the board remains elusive. The Fall 2015 update shows a number of positive trends for certain hospital-acquired conditions and safety measures, but hospitals are performing worse on critical measures like foreign objects left in after surgery. Overall, performance on safe practices and process measures varied greatly.
Additional Key Findings:
Of the 2,530 hospitals issued a Hospital Safety Score, 773 earned an A, 724 earned a B, 866 earned a C, 133 earned a D and 34 earned an F. 

Additionally, 133 hospitals earned the "Straight A" designation, which calls attention to hospitals who have consistently received an A grade for safety since the Hospital Safety Score launched in 2012.

For the fourth time in a row, Maine claimed the number-one spot for the state with the highest percentage of A hospitals, with nearly 69 percent of its hospitals receiving an A.

Zero hospitals in the District of Columbia, Alaska, North Dakota, New Mexico, Vermont, or Wyoming received an A grade.

Due to a considerable data update, 46 percent of hospitals changed at least one letter grade.
The Hospital Safety Score assigns A, B, C, D and F grades to more than 2,500 U.S. hospitals twice per year. It is calculated by top patient safety experts, peer-reviewed, fully transparent and free to the public. For more information about the Hospital Safety Score or to view the list of state rankings, please visit www.hospitalsafetyscore.org. To learn how employers are footing the bill for hospital errors, visit Leapfrog's Cost Calculator. Journalists interested in scheduling an interview should contact LeapfrogMediaGroup@sternstrategy,com.