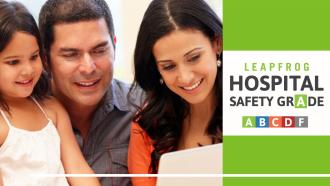 The Leapfrog Group announced today the Fall 2017 Leapfrog Hospital Safety Grades, assigning A, B, C, D and F letter grades to general acute-care hospitals in the U.S. Leapfrog's bi-annual state rankings analysis, in which states are ranked according to their percentage of "A" hospitals, found significant improvements in five states since the inception of the Safety Grades in 2012.
Oregon, Rhode Island, Hawaii, Wisconsin and Idaho showed the most improvement over the five-year period since the inception of the Hospital Safety Grade, with the most dramatic being Rhode Island, which was ranked 50th in 2012 and ranked first today. Other states with significant improvement include Oregon, going from 48th in 2012 to eighth today, Hawaii from 36th to third, Wisconsin from 44th to sixth, and Idaho from 19th to fourth.
"What we've learned is that transparency has a real impact on patient safety. By making the Hospital Safety Grades public, we've galvanized major changes in these states and many communities," said Leah Binder, president and CEO of Leapfrog. "Not only does it require dedication from national organizations, such as Leapfrog, to make this information public, but also from local coalitions, regional leaders, employers, business leaders and other community organizations to work with these hospitals and their communities to improve the quality and safety of health care."
One state appears on the state rankings for the first time today, the state of Maryland. Maryland had previously been the only state unable to be graded due to an exemption from reporting key safety metrics at the national level. Unfortunately, Maryland ranked fourth from the bottom.
Of the 44 hospitals graded in Maryland, just one (2.3%), Howard County General Hospital in Columbia, earned an "A".
"Errors and infections in hospitals are the third leading cause of death in America, and people deserve to know which of their hospitals are best at preventing them," said Binder.
She noted that one of the factors contributing to the improvement among these states is local organizations rallying around broader improvements in health care. For example, Oregon, Hawaii, and Wisconsin all have active coalitions dedicated to patient safety within their local communities and hospitals. 
Additional findings include:
Of the 2,632 hospitals graded in today's update, 832 earned an "A," 662 a "B," 964 a "C," 159 a "D" and 15 an "F"
Hospitals with "F" grades are located in California, Washington D.C., Florida, Illinois, Maryland, Mississippi, and New York 
Impressively, 59 hospitals nationwide have achieved an "A" in every scoring update since the launch of the Safety Grade in Spring 2012
The five states with the highest percentage of "A" hospitals this fall are Rhode Island, Maine, Hawaii, Idaho and Virginia
The five states with the lowest percentage of "A" hospitals this fall are North Dakota, Washington D.C., Delaware, Maryland and New York
The Leapfrog Hospital Safety Grade is calculated by top patient safety experts, peer reviewed, fully transparent and free to the public. It is updated every six months, once in the Fall and once in the Spring. For more information about the Safety Grade, as well as individual hospital grades and state rankings, please visit www.hospitalsafetygrade.org and follow the Leapfrog Hospital Safety Grade on Twitter and Facebook. Journalists interested in additional trend analyses and scheduling an interview should contact LeapfrogMediaGroup@sternstrategy.com.