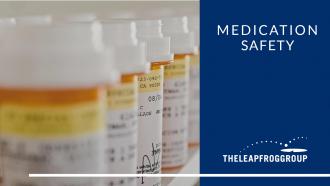 WASHINGTON D.C. – The Leapfrog Group, a national watchdog organization of employers and other purchasers focused on health care safety and quality, today released its 2019 report on Medication Safety. The report is based on results of the 2018 Leapfrog Hospital Survey, with data submitted by over 2000 U.S. hospitals. The report, issued today, analyzes how well responding hospitals perform in deploying two life-saving technologies: Computer Physician Order Entry (CPOE) systems and Bar Code Medication Administration systems. Both reduce medication errors, the most common error made in hospitals. The report is the first in a four-part series that will summarize findings across the 2018 Leapfrog Hospital Survey. Future reports will highlight hospital trends in maternity care, never events and surgical volumes.
Leapfrog has collected and publicly reported safety and quality information about hospitals for 19 years. Results, by hospital, are available at www.leapfroggroup.org/compare. In 2018, a record-breaking 2021 hospitals, representing almost 70 percent of U.S. hospital beds, participated in the Leapfrog Hospital Survey.
Report Highlights: Computerized Physician Order Entry Systems  
Hospitals use Computerized Physician Order Entry (CPOE) systems to order medications for patients instead of writing out prescriptions by hand. Good CPOE systems alert physicians and other licensed prescribers if they enter an order that could cause patient harm, such as an interaction with an existing medication or the wrong dose.
Leapfrog evaluates reporting hospitals on two aspects of CPOE use: percentage of inpatient medication orders entered through a CPOE system and performance on Leapfrog's CPOE Evaluation Tool, a simulation test designed to evaluate how well CPOE systems are alerting prescribers to potential errors. To meet Leapfrog's standard, hospitals must enter at least 85 percent of their inpatient medication orders via a CPOE system and prove that at least 60 percent of medication orders triggered the appropriate warning. In this report, Leapfrog finds the following among responding hospitals:
Sixty-five percent of hospitals fully met the Leapfrog standard.
Sixty-two percent of hospitals are ordering inpatient medications via a CPOE system the large majority of the time.
Seventy percent of hospitals proved through Leapfrog's CPOE Evaluation Tool that their CPOE system alerts physicians to common, serious prescribing errors.
Those hospitals that fully meet CPOE standards are more likely to be teaching than non-teaching (72 percent versus 62 percent) and more likely to be urban than rural (68 percent versus 47 percent).
"Leapfrog's CPOE standard is tough, because medication errors are a tough problem. People deserve to know that hospitals are using the best technology and using it wisely to protect their patients," said Leapfrog president and CEO, Leah Binder.
Report Highlights: Bar Code Medication Administration Systems
Bar code medication administration systems are designed to prevent medication errors while health care practitioners are administering medication at the bedside. The nurse or other clinician scans a bar code on the patient's wristband and a matching code on the medication prior to administration, verifying the right patient receives the right medication at the right time.
Hospitals reporting to the Leapfrog Hospital Survey are evaluated on the extent to which barcoding is used and whether the hospital implements barcoding using best practices for patient safety. Among responding hospitals, 45 percent fully meet Leapfrog's standard for bar code medication administration standards, which are four-fold:
Have a bar code medication administration system connected to an electronic medication administration record in 100 percent of medical/surgical, labor and delivery and intensive care units (achieved by 98 percent of hospitals);
Scan both a patient's wristband and medication when administering medication at bedside at least 95 percent of the time (achieved by 70 percent of hospitals);
Implement decision supports to flag (1) wrong patient, (2) wrong medication, (3) wrong dose, (4) wrong time, (5) vital sign check, (6) patient-specific allergy check, and (7) second nurse check needed (achieved by 63 percent of hospitals); and,
Have at least six of eight best practices in place to prevent dangerous workarounds that impede the safety of the BCMA system (achieved by 78 percent of hospitals).
"What is promising about this year's bar code medication administration results is the increase in hospitals that fully met the standard," says Binder. "In the 2017 Survey, 34.5 of responding hospitals adhered to best practices in bar code administration. In the 2018 Survey, that number rose to 45 percent. . We're moving in the right direction to save lives, but much more needs to be done. Given nearly all hospitals have this technology, there's no reason we shouldn't be at 100 percent compliance in effective use."
Employers and other purchasers, as well as patients and families, may use the results of the 2018 Leapfrog Hospital Survey to identify the facilities most effectively using CPOE and bar code medication administration technology to reduce medication errors. The complete Medication Safety report is available online. Additional information for patients, employers and purchasers may be found here.