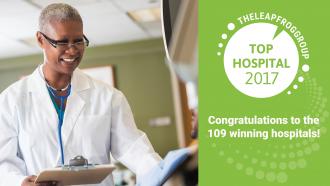 In recognition of the nation's highest quality hospitals, The Leapfrog Group, an independent nonprofit hospital watchdog organization, announced today the recipients of its 2017 Top Hospitals award. This year, New Jersey, California, Florida and Massachusetts had strong showings, with 10 or more hospitals in each of those states receiving the elite distinction.
"The Top Hospital award highlights American hospitals that are providing the highest quality of care to their patients," said Leah Binder, president and CEO of The Leapfrog Group. "We're encouraged to see hospitals across the country and within diverse communities earn this distinction. All patients, no matter who they are and where they are, deserve access to this level of care, and it's our hope that all hospitals strive to better serve their local communities."
Of the 109 Top Hospitals recognized, 10 were Top Children's Hospitals, 45 Top General Hospitals, 36 Top Teaching Hospitals and 18 Top Rural Hospitals. Top Hospitals are located in the following states and districts:
California, 14
Colorado, 5
Washington, D.C., 1
Florida, 13
Georgia, 3
Idaho, 2
Illinois, 5
Indiana, 1
Kansas, 1
Louisiana, 3
Massachusetts, 10
Maine, 7
Michigan, 4
Missouri, 3
Nevada, 1
North Carolina, 1
New Jersey, 10
New York, 1
Pennsylvania, 7
Rhode Island, 1
Tennessee, 2
Texas, 6
Utah, 1
Virginia, 6
Washington, 1
Performance across many areas of hospital care, such as preventing infections, reducing C-sections, use of technology to ensure safer care, and leadership policies and practices, is considered for the competitive award. The winners will be officially recognized at Leapfrog's Annual Top Hospital Awards Dinner and Ceremony December 7, 2017 in Arlington, VA.
Data is gathered and publicly reported through the Leapfrog Hospital Survey. The Leapfrog Hospital Survey compares hospitals' performance on national standards of patient safety, quality, efficiency and management structures that prevent errors, providing the most comprehensive picture of how patients fare at individual institutions. The data collected also enables hospitals to benchmark their progress toward Leapfrog's standards and measure the care they deliver.
To see the methodology and the full list of honorees in 2017, please visit www.leapfroggroup.org/tophospitals.