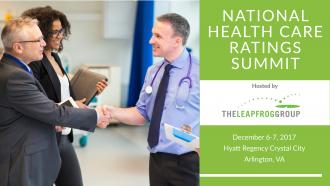 The Leapfrog Group announced today the agenda for the first National Health Care Ratings Summit, which will be held on December 6 and 7 in Arlington, Virginia. The Summit, produced by Global Health Care, LLC. brings together leaders from prominent ratings organizations with employers and other purchasers of health care, as well as health system leaders responding to ratings.
These health care ratings leaders will come together for the first time on a single stage, including Top Doctors, U.S. News & World Report, Consumer's Checkbook, Healthgrades, Consumer Reports and Amino, as well as Leapfrog. The Ratings Roundtable will be moderated by health care journalist Jayne O'Donnell of USA Today.
Also featured are sessions and talks with leaders from health systems and physician practices, discussing the accuracy of ratings and best practices for improving performance. Employer leaders will discuss how they use ratings to help employees, and leading experts in public communication will offer advice on best practices for motivating and engaging consumers through ratings.
"In the last year alone, there's been unprecedented attention on and debate about health care ratings," said Leah Binder, president and CEO of Leapfrog. "We're in a unique position to foster a national conversation around the future of these ratings and how they impact consumers, purchasers, physicians, and health systems."
Featured speakers will include:
Arnold Milstein, M.D., MPH, Clinical Excellence Research Center Director and Professor of Medicine, Center for Advanced Study of the Behavioral Sciences, Stanford University
Beth Daley Ullem, MBA, National Patient Advocate for transparency, Former Consultant at McKinsey & Company
Robert Pearl, M.D., Author of "Mistreated," Former CEO of Kaiser Permanente
David Goldhill, M.A., CEO of GSN (Game Show Network), Author of "Catastrophic Care: How American Health Care Killed My Father--And How We Can Fix It"
For more information on the Summit, full agenda, and how to register please visit: https://healthcareratingssummit.com/.