WASHINGTON D.C. – The Leapfrog Group announced today several notable changes to its annual Leapfrog Hospital Survey. This year and every year, Leapfrog's team of researchers, in conjunction with the Armstrong Institute of Patient Safety and Quality at Johns Hopkins Medicine, reviews literature and convenes national expert panels to ensure the Survey aligns with the latest science and public reporting needs of purchasers and consumers.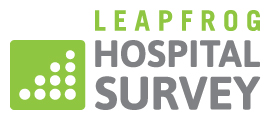 Key changes to the 2017 Survey include:
New reporting on surgery:

Hospital and surgeon volume for ten high-risk surgical procedures; peer-reviewed studies support a strong link between the number of surgeries performed and patient outcomes.
Surgical appropriateness to identify hospitals that establish and monitor adherence to their own criteria.
Leapfrog will not publicly report on surgical appropriateness or volume standards in 2017, but will use 2017 Survey responses to inform a set of standards for hospitals to be measured against in 2018.

A revised Never Events Policy Statement, released as Leapfrog commemorates ten years of holding hospitals accountable to patients and payers when a never event occurs in their facility.
Two new National Quality Forum (NQF)-endorsed pediatric measures (CAHPS Child Hospital Survey and Pediatric Computed Tomography [CT] Radiation Dose). These measures will not be publicly reported until 2018.
A new medication reconciliation measure to assess the quality of this process in hospitals and further enhance Leapfrog's reporting on medication safety. This measure will not be publicly reported until 2018.
"The health care industry and research community have made significant strides in their approach to quality and efficiency, and changes to this year's Leapfrog Hospital Survey reflect that advancement," said Leah Binder, president and CEO of Leapfrog. "These changes look to hospitals to uphold new strategies to improve patient safety, set standards for surgeon volume, reduce overuse, and always put patients first."
The 2017 Survey will open on April 1, 2017; the CPOE Evaluation Tool will open on April 15. The first results will be available late July. For more information on the changes, please visit www.LeapfrogGroup.org/Survey.
About The Leapfrog Group
Founded in 2000 by large employers and other purchasers, The Leapfrog Group is a national nonprofit organization driving a movement for giant leaps forward in the quality and safety of American health care. The flagship Leapfrog Hospital Survey collects and transparently reports hospital performance, empowering purchasers to find the highest-value care and giving consumers the lifesaving information they need to make informed decisions. The Leapfrog Hospital Safety Grade, Leapfrog's other main initiative, assigns letter grades to hospitals based on their record of patient safety, helping consumers protect themselves and their families from errors, injuries, accidents, and infections.
###