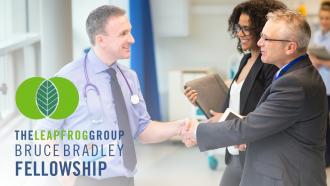 The Leapfrog Group  announced today it is accepting applications for the 2018 Bruce Bradley Fellowship, a year-long education and leadership development program designed to help employers and other purchasers of health care benefits advance safety and quality. The application will be open through October 13, 2017.
Named in honor of Bruce E. Bradley, a founding member and first chair of The Leapfrog Group Board of Directors, and former Director of Health Care Strategy and Public Policy for General Motors Health Care, the fellowship supports mid-career professionals taking a proactive role in encouraging employees and their families to pursue higher quality health care.
"Employer and purchaser leaders are critical to the future of health care," said Leah Binder, president and CEO of The Leapfrog Group. "This fellowship gives the next generation of leaders a platform to learn and exchange ideas with colleagues on how to make quality health care a reality for their employees and all Americans."
2017 Bradley Fellow Terrisca Des Jardins, MHSA, administrative director at Physician Organization of Michigan ACO, credits the fellowship for helping her to fully consider the roles and responsibilities health care professionals have in ensuring safe, quality care for all patients.
"The Leapfrog Group's Bruce Bradley Fellowship provides an incredible opportunity to learn from Leapfrog leadership, including Bruce Bradley himself, other industry leaders and other fellows to gain a thorough understanding of the importance of patient safety, measuring and reporting safety indicators, and being transparent with patients and families about safety events when they occur," said Des Jardins.
According to 2017 Fellow Jill Hutt, director of member services at Greater Philadelphia Business Coalition of Health, the Bruce Bradley Fellowship provided her with the knowledge and tools needed to educate the employer community on the importance of hospital quality and safety transparency in healthcare purchasing decisions.
"I have observed that the Bruce Bradley Fellowship experience has stimulated new and innovative questions and ideas among the Fellowship participants who represent employers, providers, and academia," said Hutt. "This experience enriches us with enhanced knowledge and tools to take action in our workplaces to advance hospital and health care quality and safety transparency."
The Leapfrog Group is seeking three fellows to participate in the 2018 program. Ideal candidates are experienced professionals who work actively with or for organizations that purchase health care. Applicants can be representatives of coalitions working with employers, HR or benefits professionals for public purchasers such as state Medicaid, federal purchasers or private employers, or individuals playing influential roles in health care purchasing. The fellowship is not designed for health care providers unless those providers also have responsibilities as an employer providing health care benefits.
Fellowship recipients will be announced in December 2017. Each fellow will be awarded a stipend and receive educational opportunities at no cost. Fellows will travel to quarterly in-person meetings and will complete a project in their community at the conclusion of the fellowship.
If interested in applying, please visit http://www.leapfroggroup.org/employers-purchasers/bruce-bradley-fellowship or download the application here.