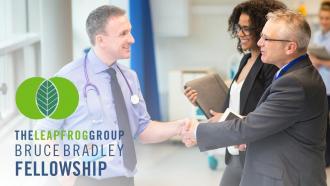 The Leapfrog Group announced today it is accepting applications for the 2021 Bruce Bradley Fellowship, a yearlong education and leadership development program founded to support innovative and bold leaders among employers and purchasers of health care benefits. Candidates for the fellowship are mid-career leaders who are working to advance the safety and quality of health care across the country. Applications are open through October 30, 2020.
"Employers formed Leapfrog 20 years ago," said Leah Binder, president and CEO of The Leapfrog Group. "As we look back on two decades of progress, we simultaneously recognize the need to cultivate the leaders of tomorrow. Our goal is for fellows to gain an understanding and appreciation for the role employers can play in improving health care quality and safety in their communities and for all Americans."
The fellowship is named in honor of Bruce E. Bradley, a founding member and first chair of The Leapfrog Group Board of Directors, and former Director of Health Care Strategy and Public Policy for General Motors Health Care.
"Our vision for the fellowship is to educate and mentor future benefits executives," said Jill Berger, Director, Employer and Payor Engagement. "We expect fellows to play an ongoing role in promoting health care value and transparency on a national level, and to play a vital role in improving health care quality and safety in their communities."
The Leapfrog Group is seeking applications for three fellowship slots in the 2021 program. Ideal candidates are experienced professionals who work actively with or for organizations that purchase health care. Applicants can be representatives of coalitions working with employers; human resource or benefits professionals for public purchasers, federal purchasers or private employers; or individuals playing influential roles in health care purchasing. The fellowship is not designed for health care providers unless those providers also have responsibilities as an employer providing health care benefits.
Selected fellows will be announced in December 2020. To complete the fellowship, fellows will be asked to undertake a project in their community reflecting their learnings.
To apply, please visit The Leapfrog Group's Bruce Bradley Fellowship website and download the application.