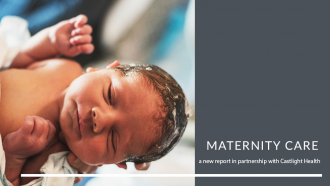 The Leapfrog Group, a Washington, D.C.-based nonprofit representing employers and other purchasers striving to improve health care quality and safety, today released its 2018 Maternity Care Report in partnership with Castlight Health. Among other findings analyzed from the 2017 Leapfrog Hospital Survey, the report shows that the average rate of episiotomies, an incision made in the perineum (birth canal) during childbirth, across all reporting hospitals declined from 9.6 percent in 2016 to 7.8 percent in 2017, their lowest rate since Leapfrog began collecting data and publicly reporting on this metric. Nonetheless, the use of these usually unnecessary incisions remains well above Leapfrog's standard, determined by its Maternity Care Expert Panel, of 5 percent or less.
The report shows no such improvement in the rate of C-sections. According to the data, two in five reporting hospitals fully met Leapfrog's standard for NTSV C-sections of 23.9 percent or less. This represents no improvement, and instead a slight decline in performance since the 2016 Leapfrog Hospital Survey.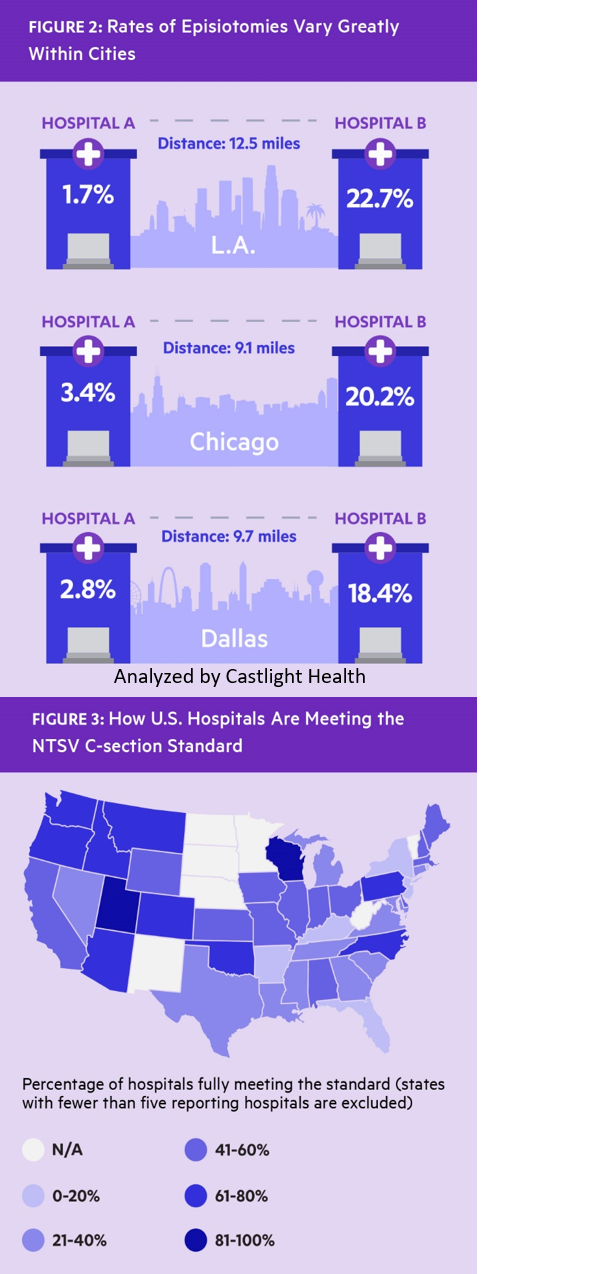 For both episiotomies and C-sections, survey data shows significant variation between hospitals, even in the same geographic region. For example, two hospitals only twelve miles apart in the Los Angeles area had episiotomy rates of a laudable 1.7 percent and a dangerous 22.7 percent. Women expecting a child are strongly encouraged to consult Leapfrog Hospital Survey results to identify the best-performing hospitals in their region on measures such as episiotomy and C-sections to have a greater likelihood of experiencing their desired birth outcome.
Additionally, nearly four of five hospitals handling high-risk deliveries lack the proper resources and expertise to do so. Leapfrog's standard recommends that mothers at risk for premature delivery choose a hospital that electively handles at least 50 very-low birth weight deliveries annually in an on-site or co-located NICU, or maintains a better-than-expected standardized morbidity ratio for these births. Only 22.1 percent of hospitals that reported delivering very-low birth weight babies fully met these standards, essentially unchanged from the 23 percent that did so in 2016.
The rate of early elective deliveries has continued declining and is now down to 1.6 percent among reporting hospitals, with 91.4 percent of hospitals fully meeting Leapfrog's standard of 5 percent or lower. By contrast, when Leapfrog began publicly reporting on this measure by hospital in 2010 the average rate was 17 percent. Hospitals are also performing well on maternity process of care measures, with 84.0 percent of hospitals reporting to the 2017 Survey fully meeting Leapfrog's standard. These processes include using a pneumatic compression device or taking other precautions to prevent a blood clot in the leg from becoming a pulmonary embolism, as well as screening for bilirubin levels to prevent hyperbilirubinemia.
"Though the national average remains too high, the significant decline in the rate of episiotomies is an encouraging sign. We salute the clinicians and national and regional health care organizations across the country who have led the way in these improvement efforts. More is needed to meet the standard for quality, but progress so far has made a real difference in the health and well-being of women in the United States," said Leapfrog President and CEO Leah Binder.
"Childbirth is the number one reason for hospitalization among all populations and age groups," said Castlight Chief Product Officer, Maeve O'Meara. "That alone tells us how critical it is to provide this information not just to consumers but to employers as well, who have a high stake in the care their employees receive. Employers should understand how hospitals are performing and we're pleased to partner with Leapfrog to bring this information into the sunlight."
The complete Maternity Care Report is available online. Other publicly available resources include: