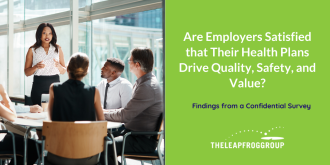 Findings on Health Plan Quality, Safety, and Value Demonstrate Critical Need for Improvement
Washington DC, January 26, 2023 – Today, The Leapfrog Group, an independent national watchdog organization of employers and other purchasers focused on health care safety, released Are Employers Satisfied that Health Plans Drive Quality, Safety, and Value?, a report that analyzed findings from a confidential survey of executives at companies that administer and fund benefits for employees and dependents.
Executives from Walmart, The Boeing Company, and Northwestern Mutual, as well as Leapfrog president and CEO Leah Binder, will comment on the report on a webinar today, Jan. 26 at 2 p.m. EST. Further details and registration can be found here.
Most notably, the survey findings suggest that when evaluating health plans, employers prioritize quality in care over other factors. Overall, the survey found employers remain critical of health plans since Leapfrog conducted the same survey in 2020.
When asked to assign letter grades to their health plan based on their ability to provide high-quality health care to employees, employers overall gave their plans a "C" grade, although there was considerable variation between plans. The average grade given to health plans was slightly worse, decreasing from a 2.57 GPA in 2020 to 2.29 in 2022, demonstrating significant room for growth across all categories surveyed.
In the survey, employers were asked to rate their experiences with health plans on four key issues, including:
Responsiveness of the health plan to employer concerns.
Transparency in helping employers and employees choose the best providers.
Payment reform initiatives that incentivize excellence in the market.
Value strategies driven by health plans.
"We were a little surprised at how clearly the findings showed that employers care first and foremost about quality of care," Binder said. "They want results. The report points to specific issues that appear to disappoint employers and what successful health plans do to earn their trust."
Overall, more than half of employer respondents reported feeling that their health plans care about the quality of health care their employees receive, are committed to reducing unnecessary costs, and prioritize improving employee health. Employers were more likely to agree that their health plan shares quality and safety data in 2022 than in 2020, but employer satisfaction with alternative payment model offerings appeared to decline in the two years between surveys.
"It is critical that health plans improve transparency of data," Binder said.
About The Leapfrog Group 
Founded in 2000 by large employers and other purchasers, The Leapfrog Group is a national nonprofit organization driving a movement for giant leaps for patient safety. The flagship Leapfrog Hospital Survey and new Leapfrog Ambulatory Surgery Center (ASC) Survey collect and transparently report hospital and ASC performance, empowering purchasers to find the highest-value care and giving consumers the lifesaving information they need to make informed decisions. The Leapfrog Hospital Safety Grade, Leapfrog's other main initiative, assigns letter grades to hospitals based on their record of patient safety, helping consumers protect themselves and their families from errors, injuries, accidents, and infections. For more, follow us on Twitter and Facebook, and sign up for our newsletter.