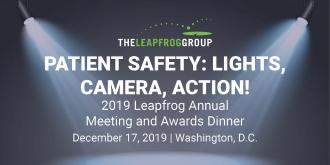 Each year, The Leapfrog Group gathers its key stakeholders and constituents for a meeting in December to discuss current topics, issues, and trends in purchasing, benefits, and health care quality. 
The Annual Meeting is followed by Leapfrog's Awards Dinner to recognize the highest performing hospitals on the Leapfrog Hospital Survey. 
The 2019 Leapfrog Annual Meeting & Awards Dinner will take place on Tuesday, December 17 at the Renaissance Hotel in Washington, DC (999 9th Street, NW Washington, DC).
This year's Annual Meeting will focus on the HBO documentary BLEED OUT and its impact on patient safety. Steve Burrows, the creator and star of the award-winning documentary, is the keynote speaker and the documentary will be screened for attendees over lunch. Watch the trailer here.