About the Surveys: Purpose and Methodology
This is a report on findings of two Surveys conducted by The Leapfrog Group, a national nonprofit organization formed nearly twenty years ago by large employers and other purchasers of health benefits. Leapfrog's goal is to publicly report the quality and safety of health care delivered to Americans, allowing people to make informed decisions about where to seek care, and giving employers insights they need to tie their investment in health services to the outcomes for employees and their families.  For most of its history, on behalf of hundreds of employers across the country, Leapfrog has focused its collection and reporting on inpatient care at acute care hospitals. That data has been used by employers, national and regional health plans, and publishers to inform consumers as well as structure contracts and other purchasing incentives.  
In 2019, Leapfrog expanded its public reporting beyond inpatient care and began collecting information on the safety and quality of ambulatory surgery centers (ASCs) and hospital outpatient surgery departments (HOPDs).  As more than 60 percent of surgical procedures can now be performed same-day, Leapfrog and its board and members are committed to publicly comparing those settings on the quality and safety of care they deliver.  
On April 1, 2019, Leapfrog began collecting the information on same-day surgery summarized in this report through two annual Surveys: an expanded version of the flagship Leapfrog Hospital Survey and a new Leapfrog Survey for ASCs. Both Surveys were developed with guidance from national experts and include standardized, evidence-based measures of care specific to places that perform ambulatory and outpatient procedures. Members of the Leapfrog Ambulatory Surgery Center/Hospital Outpatient Department Expert Panel include:
Lee A. Fleisher, MD, University of Pennsylvania Perelman School of Medicine (Chair)
Lynn J. Reede, DNP, MBA, CRNA, FNAP, American Association of Nurse Anesthetists
Elizabeth C. Wick, MD, University of California San Francisco
Linda Groah, MSN, RN, CNOR, NEA-BC, FAAN, Association of periOperative Registered Nurses
Adolph J. Yates Jr., MD, University of Pittsburgh
Oliver D. Schein, MD, MPH, Johns Hopkins Medicine
Lisa Ishii, MD, Johns Hopkins Medicine (Advisor)
This report includes preliminary findings from the 321 ASCs and 1,141 HOPDs that submitted either the Leapfrog ASC Survey or expanded Leapfrog Hospital Survey by August 31, 2019. It is Leapfrog policy to publicly report only aggregate national findings when launching a new instrument or measure on a Survey. Both hospitals and ASCs can make late Survey submissions until November 30, 2019. New Surveys will launch for 2020 on April 1, 2020. It is always free for hospitals and ASCs to participate. In future years, Leapfrog will report performance for ASCs and HOPDs by facility, as Leapfrog currently does for inpatient hospitals.
Both ASCs and HOPDs are eligible to submit a Survey if they perform at least one of 27 procedures across the following 10 specialties: Gastroenterology, General Surgery, Ophthalmology, Orthopedic, Otolaryngology, Urology, Dermatology, Neurological Surgery, Obstetrics and Gynecology, and Plastic and Reconstructive Surgery.
This report summarizes the national results from the 2019 Surveys. Results are organized in five sections:
Basic Facility Information
Medical, Surgical, and Clinical Staff
Volume and Safety of Procedures
Patient Safety Practices
Patient Experience
This Executive Summary accompanies the complete 2019 Leapfrog Ambulatory Surgery Report available on our website. Additionally, individual facilities that completed the Surveys received benchmarking reports highlighting their performance. Beginning with the 2020 Surveys, results will be publicly reported by facility on The Leapfrog Group's website. 
Summary of Basic Facility Information – ASCs
A diverse cohort of ASCs participated in Leapfrog's inaugural Survey, representing a wide variety of geographic service areas, sizes, and ownership models. Thirty-eight percent of participating ASCs represent a joint venture among physicians and a management company. Less common ownership structures include the 29 percent that are owned by either a single physician or multiple physicians and the 18 percent that are owned by a combination of physicians and/or a hospital joint venture (Figure A).  Additionally, it is important to note that 95 percent of participating ASCs are accredited by a national organization.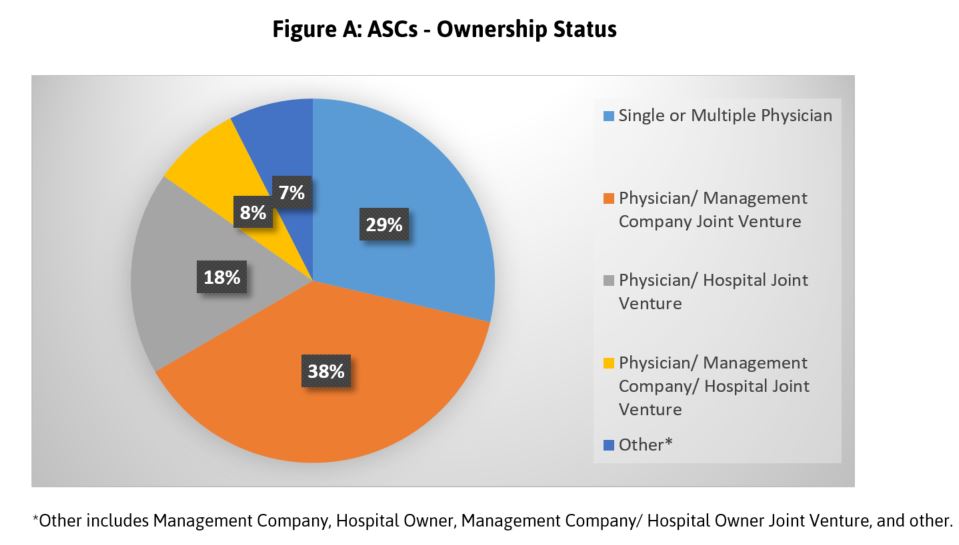 Summary of Medical, Surgical and Clinical Staff – ASCs and HOPDs
Facilities should ensure that medical, surgical, and clinical staff have the appropriate education, training, and national certifications known to contribute to safe, high quality patient care. Leapfrog asked ASCs and HOPDs if they always have a clinician who is certified in Advanced Cardiovascular Life Support (ACLS) and/or Pediatric Advanced Life Support (PALS) present while patients are undergoing procedures and while recovering. This is critical if complications arise during or following a procedure. While almost all ASCs and HOPDs have a clinician present who is certified for adult life support, pediatric certification is not universal, with 89 percent of ASCs and 96 percent of HOPDs with pediatric patients reporting always having a clinician present who is PALS certified (Figure B). This displays a potential gap in the ability to perform life-saving actions if complications arise for pediatric patients.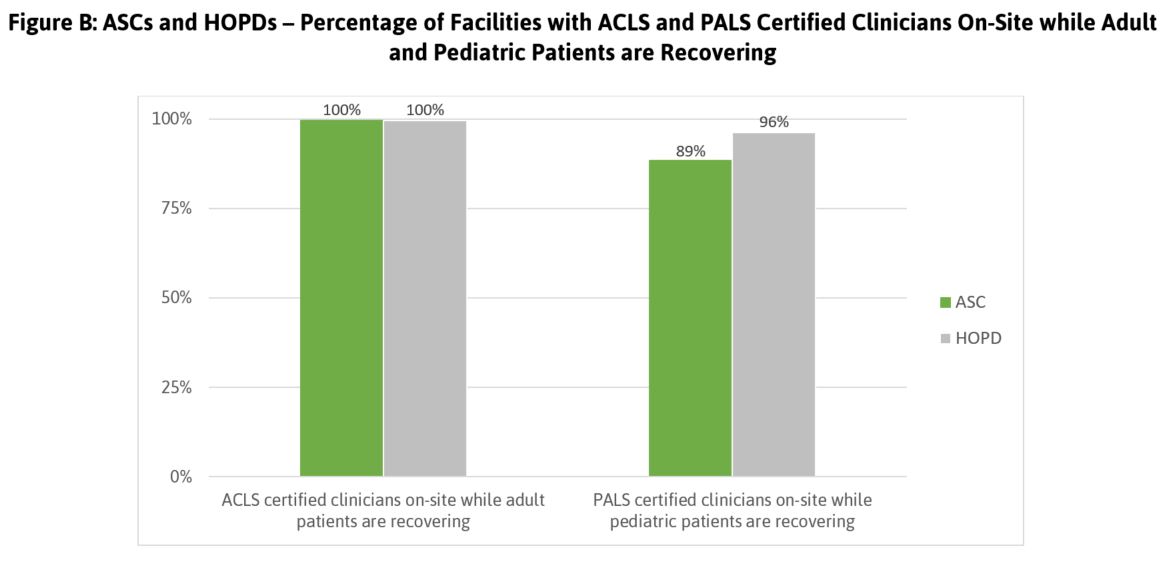 Leapfrog also asked whether all individuals performing procedures and administering anesthesia are board–certified. Board certification is the premier designation clinicians can earn to demonstrate they are experts in their chosen specialty area. As shown in Figure C, more than a third of participating facilities report that not all individuals performing procedures are board certified. Though 71 percent of ASCs and 83 percent of HOPDs report that all individuals who administer anesthesia are board–certified, there is still significant room for improvement.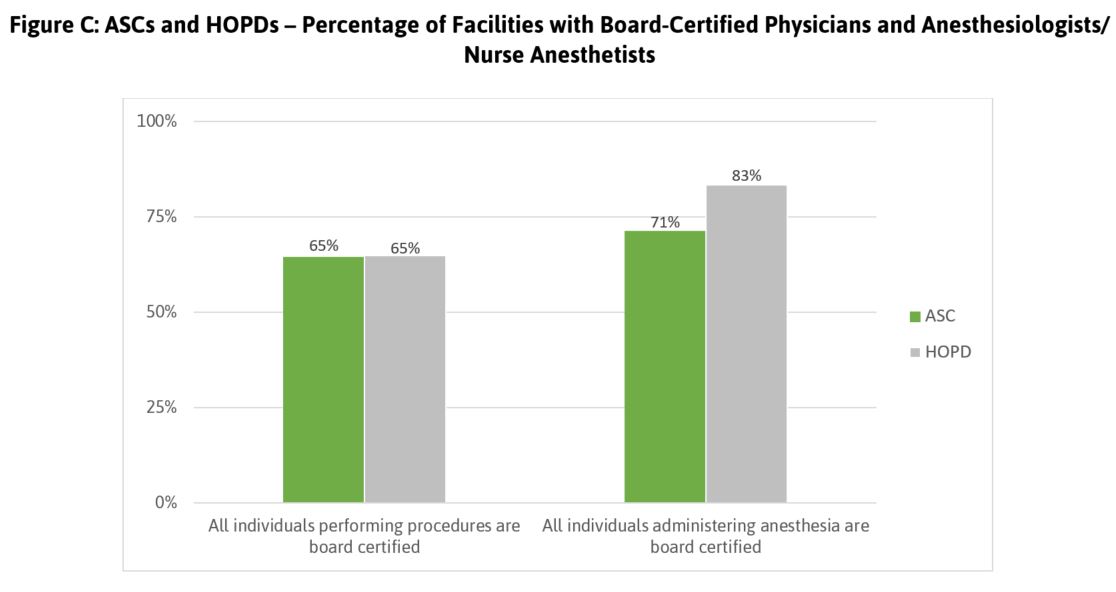 Summary of Volume and Safety of Procedures—ASCs and HOPDs
A significant body of evidence suggests a strong relationship between surgical volume and outcomes. This section of the Survey collects information on volume for procedures commonly performed on an outpatient basis, including both adult and pediatric procedures. Leapfrog collected volume data on 27 procedures across the following 10 specialties:  Gastroenterology, General Surgery, Ophthalmology, Orthopedic, Otolaryngology, Urology, Dermatology, Neurological Surgery, Obstetrics and Gynecology, and Plastic and Reconstructive Surgery. There are currently no published standards for minimum surgical volumes for outpatient procedures. Leapfrog will use the data collected on the Surveys, in addition to published literature, to inform the development of standards in the future.
Leapfrog also collects information on follow–up and after–hours communication, as well as appropriateness of patient selection and use of a safe surgery checklist. Nearly 100 percent of both ASCs and HOPDs ensure patient awareness of who to contact after hours, while only 78 percent of ASCs and 86 percent of HOPDs follow up directly with patients by phone within 24 hours of discharge. With regard to patient selection, among ASCs, 97 percent use a standardized screening tool to ensure the procedure can safely be performed in an ASC setting and 75 percent of HOPDs have this process in place. This shows room for improvement among HOPDs. Almost all ASCs and HOPDs use a safe surgery checklist; these facilities report that nurses are most likely to speak up during the safe surgery checklist process.
Finally, Leapfrog collects information about the process for obtaining patient consent. As shown in Figures D and E, the majority of patients having procedures performed in ASCs and HOPDs do not receive consent materials in advance. Providing consent materials prior to the day of the procedure gives patients the opportunity to adequately consider the risks involved.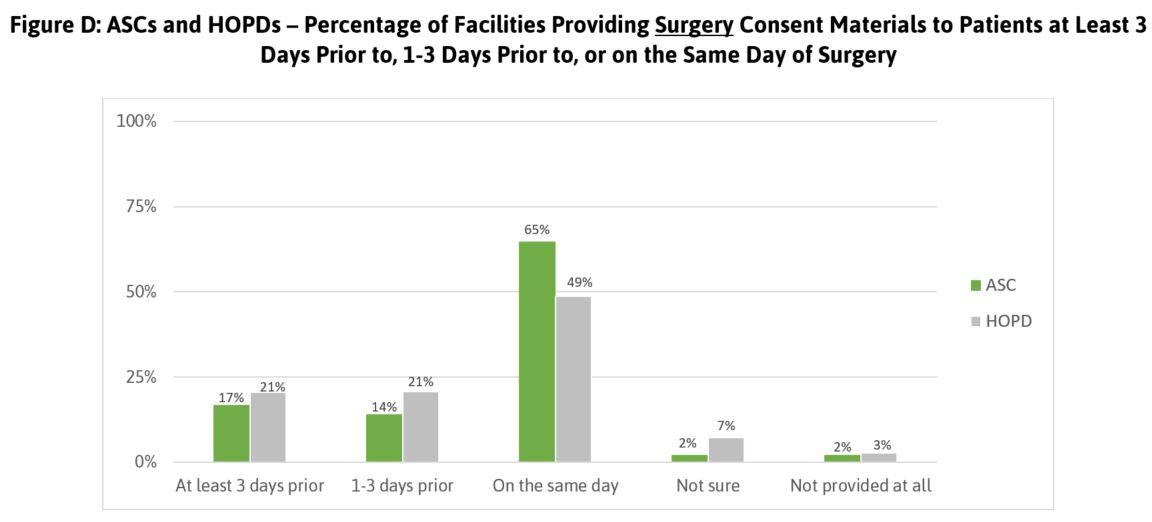 Summary of Patient Safety Practices—ASCs and HOPDs
In order to provide the safest possible care to their patients, ASCs and HOPDs should adhere to a number of evidence–based patient safety practices that are endorsed and/or recommended by the National Quality Forum, the Centers for Disease Control and Prevention, accreditation agencies, and other national organizations. In this section of the Surveys, facilities were asked to report on the steps they take regarding medication safety including antimicrobial stewardship, surgical site infection reporting, safe practices including hand hygiene, and compliance with Leapfrog's Never Events policy.
Antimicrobial stewardship: ASCs are encouraged to adopt a program to promote the appropriate use of antimicrobials (including antibiotics), which can in turn improve patient outcomes, reduce microbial resistance, and ultimately decrease the spread of infections. The results from the Leapfrog ASC Survey shows that less than one in five ASCs reported that they have adopted such a program (Figure F). Though this information is not available for HOPDs, hospitals are asked about antimicrobial stewardship relative to their inpatient population. In stark contrast to similar data from ASCs, the vast majority (93%) of hospitals are in compliance.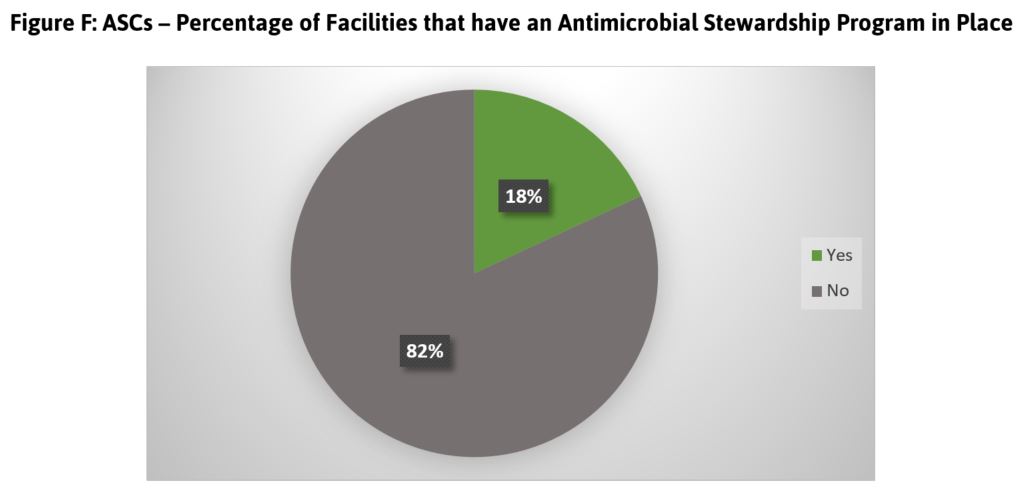 Infections: Leapfrog plans to report on infections in outpatient settings and ASCs in the future. To facilitate this, ASCs will need to join the CDC National Healthcare Safety Network (NHSN)'s Outpatient Procedure Component Module. Participation with NHSN will ease the reporting burden on ASCs while enabling robust reporting to consumers, purchasers, and payors on infection rates.
Safe Practices: For most of its nearly 20-year history, Leapfrog asked hospitals reporting to the Leapfrog Hospital Survey to comply with practices for safer health care endorsed by the National Quality Forum (NQF) that, if adopted, can prevent or reduce adverse events in health care settings. Each Safe Practice is divided into four components (awareness, accountability, ability, and action) and includes a list of evidence-based practices that every ASC and hospital should implement. Likely because hospitals have been asked to comply with these practices for many years, HOPDs reported higher adoption than ASCs in 2019. Leapfrog expects that ASC adoption will grow in future years.
Hand Hygiene: One key safe practice is the use of effective hand hygiene protocols to prevent infections in health care facilities. ASCs and HOPDs are using a number of different methods to monitor and provide feedback on hand hygiene practices in their centers. While nearly all ASCs and HOPDs are using direct observation to assess hand hygiene compliance, very few have implemented electronic monitoring, technology designed to more accurately capture the frequency with which staff are cleaning their hands prior to interacting with patients (Figure G).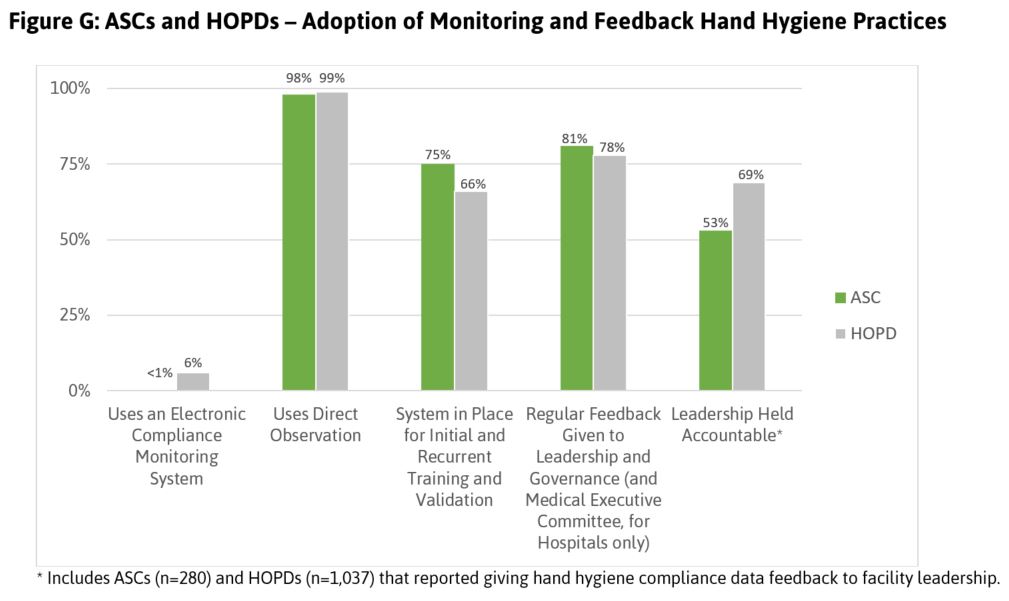 Never Events: Since 2007, Leapfrog has been asking hospitals to adopt its Never Events Policy, committing to a series of actions they will take if a never event occurs within their facility, including apologizing to the patient and not charging for the event. ASCs reporting to the Leapfrog ASC Survey were asked if they have a never events policy in place that complies with all nine elements of Leapfrog's policy. In 2019, reporting ASCs showed lower compliance with each element than HOPDs.
Summary of Patient Experience – ASCs and HOPDs
Leapfrog asks ASCs and HOPDs to use a standardized and tested tool for collecting feedback from their patients: The Consumer Assessment of Healthcare Providers and Systems Outpatient and Ambulatory Surgery Survey (OAS CAHPS). 
Leapfrog monitors patients' reported experience in several domains including facilities and staff, communication about the patient's procedure, patients' overall rating of the facility, and patients' overall recommendation of the facility.
Fewer ASCs than HOPDs reported administering OAS CAHPS to collect this patient-reported data. Among those ASCs that administered the patient experience survey, patients tended to report better experiences in ASCs than HOPDs (Figure H). Because patient experience is one of the metrics most valued by consumers, ASCs and HOPDs are advised to put a priority on administering the OAS CAHPS as a means of quality improvement and market differentiation.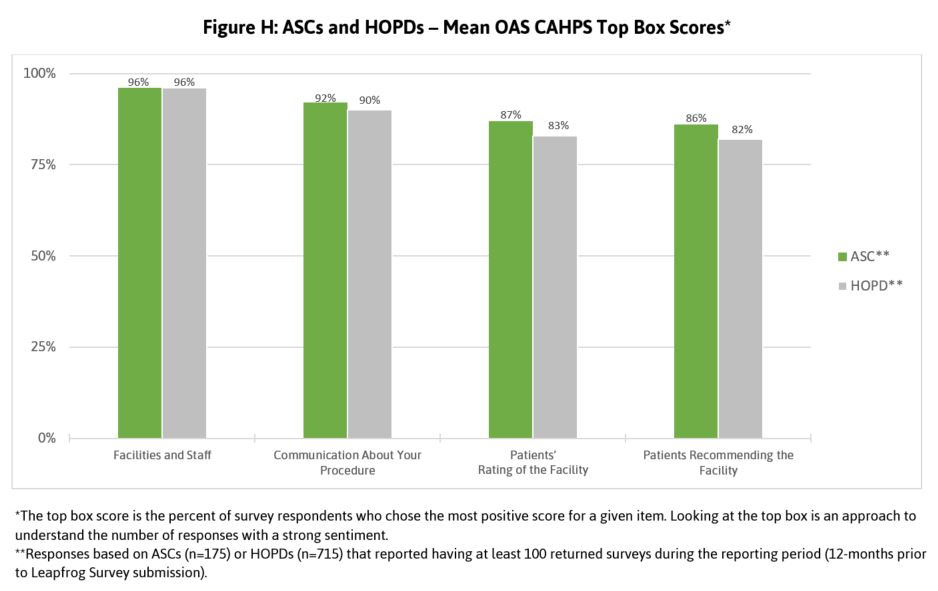 Next Steps
The Late Submission Deadline for the 2019 Leapfrog Surveys is November 30, so there is still time to participate this year. These facilities will receive a confidential, personalized benchmarking report in early 2020, and it is always free to report to Leapfrog Surveys. Beginning in 2020, Leapfrog will publicly report ASC and HOPD performance by individual facility. Results will be published in a way that allows consumers, purchasers, and payors to compare ASC and HOPD performance side by side.
On behalf of its members collectively comprising hundreds of the leading employers and purchasing organizations across the country, Leapfrog thanks the ASCs and HOPDs that reported to these inaugural Surveys, and provided important insights for future Surveys beginning in 2020. On behalf of employers and other purchasers and payors, Leapfrog encourages all ASCs and hospitals to participate in 2020, and be part of our campaign for a transparent marketplace for quality health care.  
Visit the report landing page to see the full 2019 Leapfrog Ambulatory Surgery Report.