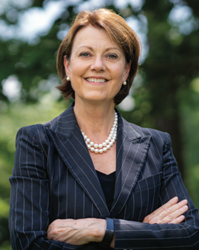 The Steven Schroeder Award for Outstanding Healthcare CEO was presented at The Leapfrog Group's annual meeting. This year's recipient was Joanne M. Conroy, MD, CEO and President of Dartmouth-Hitchcock (D-H) and Dartmouth-Hitchcock Health (D-HH) in New Hampshire.
The award was created by Costs of Care, a leading non-profit dedicated to building a pipeline of change agents to deliver more affordable health care, in conjunction with The Leapfrog Group, to recognize a hospital and/or health system CEO who has demonstrated courageous and ethical leadership addressing the twin issues of affordability and quality of health care in their community.
"We hope to inspire change in our health care system, and one way of doing that is celebrating positive examples of leadership in safety and affordability, like Dr. Conroy," said Chris Moriates, MD, Executive Director of Costs of Care.
Dr. Conroy has led D-H and D-HH to achieve outstanding safety outcomes, avoid low-value care, and focus on financial assistance and transparency for patients. As CEO and president of New Hampshire's only academic health system, Dr. Conroy has overseen significant positive changes, including a dramatic turnaround in the D-HH system's financial performance, the announcement of two major new expansion projects, and a strategic planning process that will guide the organization into the future. The goal is to be trustworthy and to provide excellent care, while keeping costs down. The top-down support from Dr. Conroy has made it possible for D-HH to focus on quality improvement and the costs of care without sacrificing the highest level of care that each patient expects and receives.
The Outstanding Healthcare CEO award is named in honor of Steven Schroeder, MD, Distinguished Professor of Health and Health Care at the University of California San Francisco and former President and CEO of the Robert Wood Johnson Foundation. Dr. Schroeder has spent five decades inspiring and mentoring leaders to forcefully advocate for better quality and more affordable health care, and he has inspired leaders of both Costs of Care and The Leapfrog Group.
"Dr. Conroy is a courageous leader, demonstrating what's possible when you provide sensible, high-quality care. Her leadership should be held in the highest regard and should serve as inspiration for health systems leaders across the country," stated Dr. Schroeder.
"At the heart of what we do as healthcare providers is healing the sick and educating patients about how to live the healthiest lives they can, into the future. The amount of money someone has in their bank account or their zip code shouldn't be a barrier to receiving the best care possible," Dr. Conroy said. "Receiving the Schroeder Award is a really distinct honor for me, because I truly believe – and so does everyone on our teams at D-H – that we must have an unrelenting focus on safe, high-quality care for every patient. Without hesitation, I share this award with all D-HH employees, because it is our shared belief in this principle that makes delivering on that promise to our patients possible."
Leah Binder, president and CEO of The Leapfrog Group said of Dr. Conroy, "she inspires us with her passion for quality and safety, her ethical approach to reducing waste in health care costs, and her national reputation for mentoring outstanding women in health care. The pandemic has not made it easy to run a health care system, but this award shows us the power of courageous and principled leadership to win the day in spite of enormous challenges."
Check out the award presentation!
About Costs of Care
Costs of Care is a nonprofit organization dedicated to building a pipeline of change agents to deliver more affordable care. Since 2009, Costs of Care has collected more than 500 personal accounts from physicians, nurses, and patients all over the United States that illustrate routine and high yield opportunities to improve the value of care delivery through improved decision-making. Costs of Care has created widely adopted and enduring resources to educate medical trainees and clinicians about how to address health care costs and provide high-value care, including the textbook Understanding Value-Based Healthcare, the "COST" framework for designing value improvement projects, multiple workshops, and free, CME-approved video modules. In December 2019, Costs of Care launched the Affordability Moonshot - envisioning a world in which "no one has to choose between their life and their life-savings" - paired with an Affordability Accelerator in September 2021 to support and collaborate on promising ideas to improve patient affordability.
Connect at http://costsofcare.org, be a part of the Moonshot at moonshot.costsofcare.org, and follow on Twitter/Instagram @CostsOfCare.
About The Leapfrog Group
Founded in 2000 by large employers and other purchasers, The Leapfrog Group is a national nonprofit organization driving a movement for giant leaps forward in the quality and safety of American health care. The flagship Leapfrog Hospital Survey and new Leapfrog Ambulatory Surgery Center (ASC) Survey collect and transparently report hospital and ASC performance, empowering purchasers to find the highest-value care and giving consumers the lifesaving information they need to make informed decisions. The Leapfrog Hospital Safety Grade, Leapfrog's other main initiative, assigns letter grades to hospitals based on their record of patient safety, helping consumers protect themselves and their families from errors, injuries, accidents, and infections.