The annual Leapfrog ASC Survey is free and open to ambulatory surgery centers (ASCs) from April 1 to November. The Survey assesses the safety and quality of ASCs based on national, evidence-based measures that are of specific interest to employers, health care purchasers and, consumers. Survey Results are publicly reported, and provide ASCs with information to benchmark their progress in improving the care they deliver.
July 31 Submission Deadline Reminder
Leapfrog extended the Submission Deadline from June 30 to July as part of our response to COVID-19. ASCs that submit a Survey by July 31 will have their Leapfrog ASC Survey Results publicly reported starting in August on our Survey Results website. After August, Results are updated on the fifth business day of the month to reflect Surveys (re)submitted by the end of the previous month.
Leapfrog extended the Submission ...
Review all Survey Deadlines
The Business Case for Quality and Transparency
On June 15 Leapfrog hosted a 30-minute panel where Linda Schwimmer, President & CEO of the New Jersey Health Care Quality Institute and Kathy Wilson, Executive Director of the ASC Quality Collaboration discussed the business case for ambulatory surgery centers to participate in quality measurement and public reporting activities. Leah Binder, President & CEO of The Leapfrog Group moderated the discussion.
Watch now
Case Study on Leapfrog ASC Survey
Leapfrog interviewed Coronado Surgery Center Owner and Medical Director Dr. Mike Crovetti on how the Leapfrog ASC Survey provides credibility through accountablity.
Read the Case Study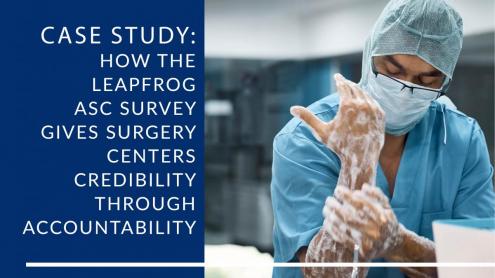 Prepare to Submit an ASC Survey
The 2021 Leapfrog ASC Survey opens on April 1. Please review the information on these webpages before you begin. These resources will help you to successfully complete the submission process.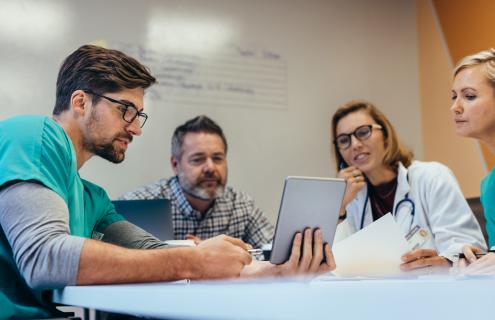 Why the Leapfrog ASC Survey Matters to Purchasers
"With the convenience and growing use of ambulatory surgery centers, patients are able to access cost effective alternatives to inpatient care. But how do employers, employees and family members know which outpatient facilities to choose from? The Leapfrog Group just made this a little easier. In addition to offering public reporting for hospital quality and safety nationwide, the same information will be available on outpatient care. This matters because patients need guidance in finding the safest facilities with the highest quality care -- which benefits employers and the people they care about the most." - Cheryl Larson, President and CEO, Midwest Business Group on Health