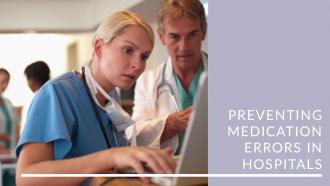 Despite improvements in recent years, a report released today in connection with Medication Safety Awareness Week (April 1 to April 7) shows that not all hospitals have implemented crucial computerized physician order entry (CPOE) systems for preventing medication errors during hospital stays. Even hospitals with well-functioning CPOE systems must double- and triple-check orders to prevent harm to patients, the report recommends.
The report, Preventing Medication Errors in Hospitals, analyzes data collected in the 2015 Leapfrog Hospital Survey. Even in cases where hospitals had CPOE systems in place, 39 percent of potentially harmful drug orders weren't flagged by the system to alert staff of potential errors. The analysis, done by Castlight Health, also found that 13 percent of potentially fatal orders failed to trigger an alert by the system. 
"Hospitals spend millions of dollars to implement CPOE systems, but our results clearly show that many hospitals' systems are not operating as well as they should, putting patients' lives at risk."
"CPOE systems have done a remarkable job in reducing the likelihood of medication errors, but mistakes are still seen with far too much frequency," said Leah Binder, president and CEO of Leapfrog. "Hospitals spend millions of dollars to implement CPOE systems, but our results clearly show that many hospitals' systems are not operating as well as they should, putting patients' lives at risk."
Additional key findings highlighted in the report include:
Almost every reporting hospital now has a CPOE system, marking a significant advance for medication safety. Spurred in great part by federal investment in hospital IT infrastructure, nearly all (96 percent) of hospitals report adoption of a CPOE system, up from 33 percent in 2010 and just two percent when Leapfrog first began reporting on CPOE in 2001. CPOE is the best-known tool to prevent medication errors, which remain the most common mistake made in hospitals.
Nearly two-thirds of hospitals (64 percent) fully met Leapfrog's CPOE standard for CPOE implementation and quality. To meet Leapfrog's standard a hospital must demonstrate that its system alerts physicians to at least 50 percent of common, serious prescribing errors. Hospitals must also place at least 75 percent of medication orders through a CPOE system.
CPOE use varies state by state. Among the states with the lowest percentage of hospitals meeting Leapfrog's standard – CPOE systems that alert physicians to at least 50 percent of common, serious prescribing errors and process at least 75 percent of all medication orders – were Indiana (25 percent) and Nevada (35 percent). Five additional states had fewer than 50 percent of hospitals meeting the standard. Alternatively, among the states with the most hospitals meeting the standard were Maine (85 percent), Georgia (83 percent), and New York (81 percent). Eight additional states reported 75 percent or more hospitals meeting the standard.
Hospitals can promote greater accountability for processes to check patients' medications. In a series of 15 questions based on the National Quality Forum's Safe Practices for Better Healthcare, hospitals were asked to report on efforts to implement policies and procedures that can prevent adverse drug events.  Over half (62%) of reporting hospitals indicated they conduct all recommended medication reconciliation activities. Nearly all hospitals had implemented processes for documenting patient medications at admission (98 percent) and shared the updated medication list with patients and caregivers at discharge (99 percent).
However, not all hospitals had implemented the policies to ensure adherence to these processes. Only 84 percent of hospitals held their senior administrative leadership accountable for these processes through their performance review of compensation. What's more, only 88 percent of hospitals had staff time or a budget allocated to developing best practices.
"It is critical that hospitals maintain well-functioning CPOE systems and proper accompanying manual reviews to ensure patients receive the best possible care," said Kristin Torres Mowat, senior vice president of plan development and data operations at Castlight Health. "The absence of these systems increases the risk of a patient having an adverse drug reaction (ADR), which can result in a longer hospitals stay and average increased costs of $3,000 per patient. We have worked with Leapfrog to highlight the need for more checks and to educate consumers on the key quality and safety information they need to consider to make the best healthcare decisions."
Binder also noted that hospitals that voluntarily report to The Leapfrog Hospital Survey are eligible to make use of the CPOE evaluation tool described in the report, developed by leading researchers in medication safety and information technology, including Drs. David Bates and David Classen. The evaluation determines whether CPOE systems properly alert potentially harmful medication orders to prescribers. The survey and evaluation are free to hospitals; results are free to the public.
Today's report is the second in a series of five reports to be released this year, each examining key quality and safety measures at hospitals nationwide based on data from the 2015 Leapfrog Hospital Survey of 1,750 U.S. hospitals with comprehensive analysis provided by Castlight Health. Future publications in the report series will be available here.