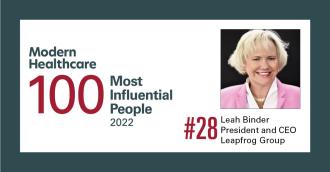 The Leapfrog Group is proud to announce that President and CEO Leah Binder was recognized by Modern Healthcare as one of the 100 Most Influential People in Healthcare of 2022. The complete ranking can be found in the December 5 issue of MH magazine, and profiles of all the honorees are available online at ModernHealthcare.com/100MostInfluential.
This prestigious recognition program acknowledges and honors individuals who are deemed by their peers and the senior editors of Modern Healthcare to be the most influential figures in the industry in terms of leadership and impact.
"The past year had been one in which disrupters turned into major players and industry leaders raised their voices to effect change within their organizations and the broader community," said Modern Healthcare Editor Mary Ellen Podmolik. "Our 2022 ranking of the 100 Most Influential People in Healthcare recognizes these individuals who are transforming a major sector of the nation's economy and are focused on improving care and payment models."
Leah Binder has been the unrelenting voice for safety and quality in health care: a blunt and effective champion for saving patient lives. Most notably, under Leah's leadership, Leapfrog led a successful campaign to ensure critical safety information remains available to the public. Learn more.