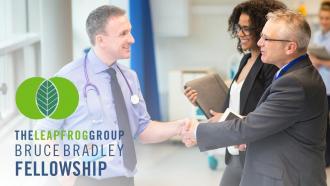 The Leapfrog Group announced today the 2022 Bruce Bradley Fellowship class. This year's distinguished class features fellows from across the country, and for the first time, internationally. They will participate in a yearlong education and leadership development program designed to help employers and purchasers of health care benefits advance safety and quality.
Congratulations to the 2022 Bruce Bradley Fellows:
Stacy Leick, Communications Director, The Economic Alliance for Michigan
Ashley Love, Director of Health and Benefits, Willis Towers Watson
Roshini Moodley Naidoo, General Manager, Discovery Health, Johannesburg, South Africa
Tanika Smith, Director of Communications, Teamsters Health & Welfare and Pension Trust Funds of Philadelphia and Vicinity
 "Employers and purchasers are uniquely situated to improve health care in the United States, and they're taking bold action. As our country faces daunting new challenges stemming from the pandemic, their role has never been so important," said Leah Binder, president and CEO of The Leapfrog Group. "The Bruce Bradley Fellowship equips employer and purchaser leaders with the knowledge and tools needed to make safe, quality health care a reality. We welcome this distinguished and global fellowship class and look forward to a year of growing together."
Named in honor of Bruce E. Bradley, a founding member and first chair of The Leapfrog Group Board of Directors, and former Director of Health Care Strategy and Public Policy for General Motors Health Care, the fellowship supports mid-career professionals taking a proactive role in encouraging employees and their families to pursue higher value health care.
The fellows will gain expertise in measurement of and advocacy for hospital and ambulatory surgery center quality and safety, as well as effective methods of steerage. After training, Leapfrog expects that fellows will become recognized leaders, facilitating, and promoting employers' selection of higher quality, safer health care facilities and health systems locally, regionally, and nationally.