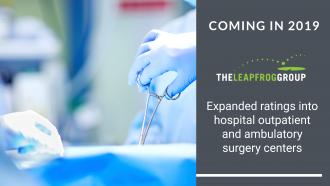 The Leapfrog Group, a national health care nonprofit driven by employers and other purchasers of health care, announced today the expansion of its public reporting to outpatient settings. For the first time, Leapfrog will collect safety data on ambulatory surgery centers (ASCs) through a new voluntary survey. In addition, hospital outpatient surgery departments will report similar data through a new section of the Leapfrog Hospital Survey, the organization's first rating system that has been gathering information about the quality and safety of inpatient care for almost 20 years. Both surveys will open in April 2019. 
Across both surveys, Leapfrog will gather data on several important areas including basic facility information, medical and nursing staff, procedure volume and outcomes, patient safety practices and patient experience. By fall 2019, a national report on the results will be published. ASCs and hospital outpatient surgery departments that participate will receive detailed benchmarking reports they can use with purchasers and payors in their markets. For the 2020 surveys, Leapfrog will publicly report data on individual ASCs and hospital outpatient surgery departments.
"The vast majority of surgeries in the U.S. are performed in outpatient or ambulatory settings, but there are almost no independent data about the safety and quality of this care. This leaves patients at risk without the information they need to select the best place for their care," said Leah Binder, president and CEO of The Leapfrog Group. "We're confident that, given the opportunity, hospitals and ASCs will be transparent in voluntarily reporting their performance, just like the nearly 2,000 hospitals that report on their inpatient quality today."
To ask ASCs and hospitals to voluntarily report data, Leapfrog will work on behalf of employers through Regional Leaders, representing business groups on health across almost every state, as Leapfrog has done with the Leapfrog Hospital Survey since its inception in 2000.
Leapfrog's national Expert Panel will review and recommend content for the surveys to ensure the highest level of evidence and scientific validity. Members of the Expert Panel include:
Lee A. Fleisher, MD, University of Pennsylvania Perelman School of Medicine
Lynn J. Reede, DNP, MBA, CRNA, FNAP, American Association of Nurse Anesthetists
Elizabeth C. Wick, MD, University of California San Francisco
Linda Groah, MSN, RN, CNOR, NEA-BC, FAAN, Association of periOperative Registered Nurses
Adolph J. Yates Jr., MD, University of Pittsburgh
Oliver D. Schein, MD, MPH, Johns Hopkins Medicine
In the first year, participation will be limited to 250 ASCs. This will allow for the refinement of questions and measure specifications before opening the survey to the more than 5,000 ASCs that operate across the United States.
"Health care purchasers, like employers, unions, government entities and consumers themselves, deserve to know the quality of the care they are buying. Full and unbiased transparency when assessing options for the best site of care is essential, and Leapfrog's efforts help to ensure that is an important step forward," said David Hopkins, MS, Ph.D., board treasurer of The Leapfrog Group. "More than ever before, with the addition of the ASC survey and new section of the Hospital Survey, Leapfrog is poised to deliver a comprehensive picture of transparent data to patients and payors."
ASCs or ASC networks interested in participating in the Survey should contact Leapfrog's Help Desk.