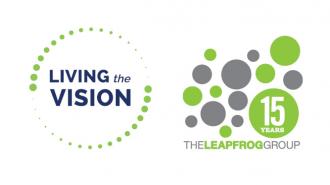 The Leapfrog Group has named three exemplary organizations to receive its inaugural "Living the Vision" awards at its 15th Anniversary Gala on December 1, 2015.
"For 15 years, Leapfrog has been at the center of the health care transparency movement, urging hospitals to be transparent about their performance and empowering purchasers to use this information to drive high-value care in their communities," said Leah Binder, president and CEO of The Leapfrog Group. "At this critical moment in our history, we will highlight organizations that embody the principles on which Leapfrog was founded: transparency, excellence and value." 
The "Living the Vision" award recipients were selected by The Leapfrog Group Board of Directors for achieving significant milestones in the fight to transform health care in this country. Accepting their award on Dec. 1, the honorees include:
The Consumer-Purchaser Alliance, which is being honored for its commitment to Transparency, fighting for better public reporting and strong representation of purchaser and consumer interests at the national level.
Kaiser Permanente's Health Care System, which is being honored for its high level of Excellence, consistently demonstrating top performance on the Hospital Safety Score and Leapfrog Hospital Survey.
Maine State Employee Health Commission, which is being honored for its enduring pledge to Value, tying hospital performance to payments by purchasers and payers and advocating for the best care for its citizens.
For more information on The Leapfrog Group's 15th Anniversary Gala, "Living the Vision" award winners and to register for the Gala and 2015 Annual Meeting, visit the website here.