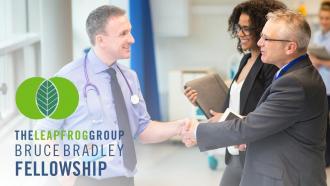 The Leapfrog Group announced today it is accepting applications for the 2020 Bruce Bradley Fellowship, a yearlong education and leadership development program founded to support innovative and bold leaders among employers and purchasers of health care benefits. Candidates for the fellowship are mid-career leaders who are working to advance the safety and quality of health care across the country. Applications are open through October 31, 2019.
"Employers have the power to change the future of American health care," said Leah Binder, president and CEO of The Leapfrog Group. "This fellowship gives rising employer and purchaser leaders a unique opportunity to learn and share ideas with colleagues on how to improve health care quality and safety for their employees and for all Americans."
The fellowship is named in honor of Bruce E. Bradley, a founding member and first chair of The Leapfrog Group Board of Directors, and former Director of Health Care Strategy and Public Policy for General Motors Health Care.
"The fellowship has provided invaluable opportunities to meet health care influencers and expand my knowledge of safety and quality in the health care system.  The concluding project has been a great complement to my career," said Kendall Cislo, 2019 Bruce Bradley Fellow and Senior Investment Operations Strategist, UAW Retiree Medical Benefits Trust.
The Leapfrog Group is seeking applications for three fellowship slots in the 2020 program. Ideal candidates are experienced professionals who work actively with or for organizations that purchase health care. Applicants can be representatives of coalitions working with employers; human resource or benefits professionals for public purchasers, federal purchasers or private employers; or individuals playing influential roles in health care purchasing. The fellowship is not designed for health care providers unless those providers also have responsibilities as an employer providing health care benefits.
Selected fellows will be announced in December 2019. Fellows will receive a $3,000 stipend and travel expenses for in-person sessions. To complete the fellowship, fellows will be asked to undertake a project in their community reflecting their learnings.
To apply, please visit The Leapfrog Group's Bruce Bradley Fellowship website and download the application.