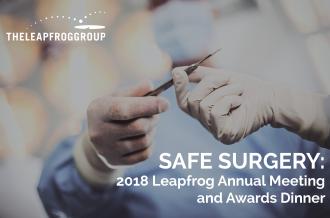 Register for the 2018 Leapfrog Annual Meeting and Awards Dinner on December 4, 2018 at the JW Marriott in Washington D.C.
Speakers include:
Leah Binder, President and CEO, The Leapfrog Group
Matt Austin, PhD, Assistant Professor, Anesthesiology and Critical Care Medicine Faculty, Armstrong Institute for Patient Safety and Quality, Johns Hopkins University School of Medicine
Missy Danforth, Vice President of Health Care Ratings, The Leapfrog Group
David Goldhill, Former President and CEO, The Game Show Network (GSN); Board Chair, The Leapfrog Group
Lisa Ishii, M.D., M.H.S., Assistant Professor, Department of Otolaryngology, Division of Facial Plastic Surgery, John's Hopkins Medicine 
Robert Krughoff, President, Consumers' Checkbook 
Adam Stavisky, Senior Vice President of U.S. Benefits at Walmart
Steve Sternberg, Assistant Managing Editor for Health Initiatives, U.S. News & World Report 
Katie Stewart, Director, Health Care Ratings, The Leapfrog Group 
Olivia Ross, Associate Director of Employers Centers of Excellence Network at the Pacific Business Group on Health
And more 
Click here to learn about sponsorship opportunities. 
Click here to view the agenda.