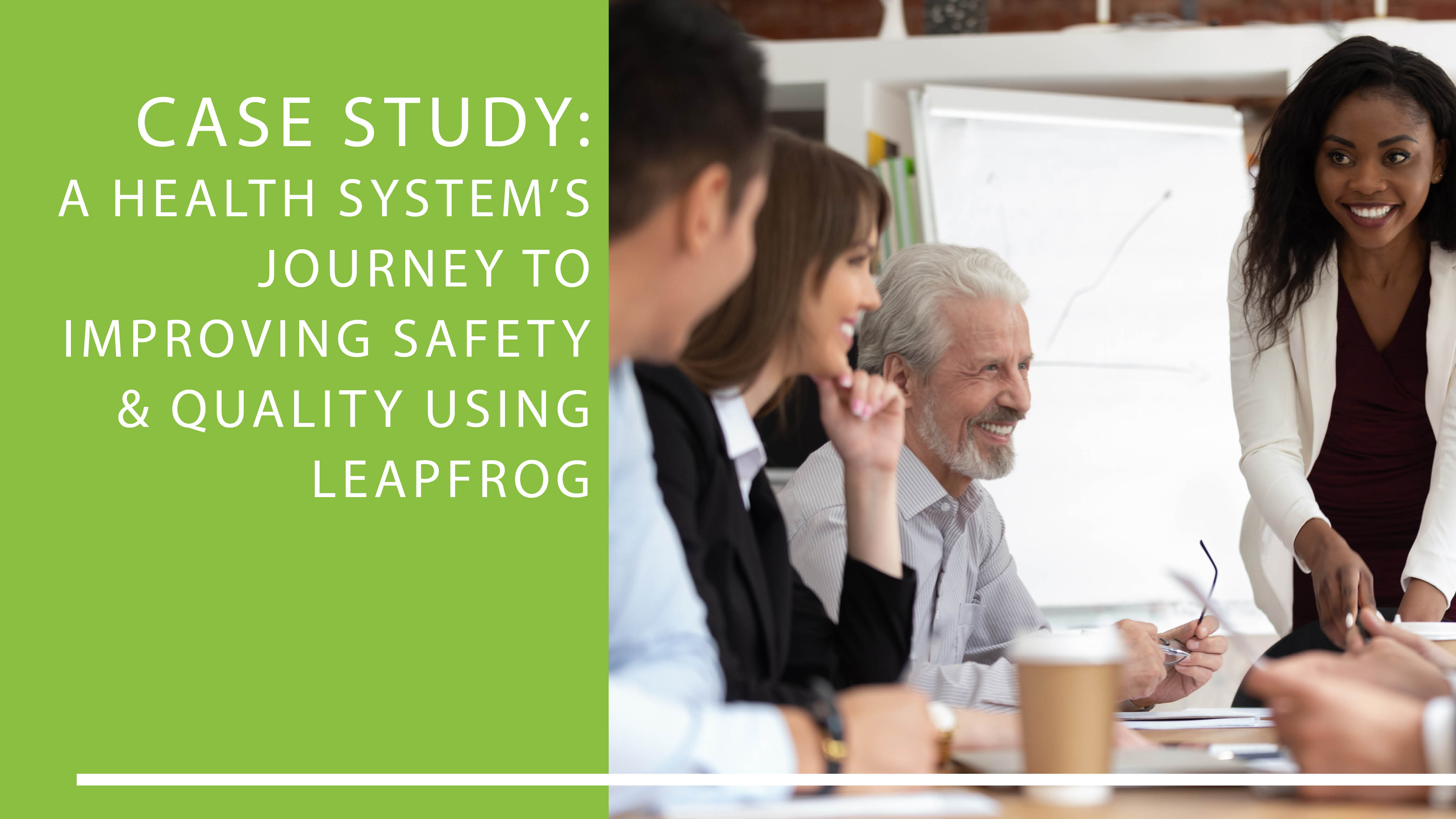 The Leapfrog Hospital Safety Grade is a bi-annual grading assigning "A," "B," "C," "D" and "F" letter grades to general acute-care hospitals in the U.S. It is the nation's only rating focused entirely on patient safety—preventable errors, accidents, injuries and infections.
When hospitals report to the annual Leapfrog Hospital Survey, those results, coupled with data from the Centers for Medicare and Medicaid Services (CMS) are used to calculate a hospital's Safety Grade. Hospitals that report to the Leapfrog Hospital Survey show their commitment to transparency and to putting patients first.
Leapfrog data is used by hospitals for benchmarking and quality improvement efforts and is used by employers, payors and patients to identify safer, higher quality hospitals.
CHI Franciscan Health System's Quality Improvement Journey
CHI Franciscan is a 10-hospital system based in the Pacific Northwest. In Spring 2017, their Leapfrog Hospital Safety Grades were (3) "C"s, (3) "D"s, and (1) "F." Since then, CHI Franciscan initiated a system-wide approach to understanding and closing the gaps to meet Leapfrog standards. This includes system-wide reporting to the Leapfrog Hospital Survey.  Though reporting to the Leapfrog Hospital Survey does not always lead to an improvement in a hospital's Safety Grade, today their hospitals have all "A" and "B" Grades.
The following is a poster presentation created by CHI Franciscan that outlines their quality improvement journey. Their overall goals, as outlined below included:
Increase system-wide focus on Leapfrog performance
Educate leaders on reasons why Leapfrog is important
Gain full understanding of Leapfrog's Scoring Methodology
Maximize performance by developing plans for improvement
Provide increased education on Leapfrog standards throughout organization
They accomplished this through internal system-wide communication, leadership restructuring and a focus on improving ICU physician staffing and infection prevention.
Click  below to view the following poster presentation for an overview of CHI Franciscan's quality improvement journey.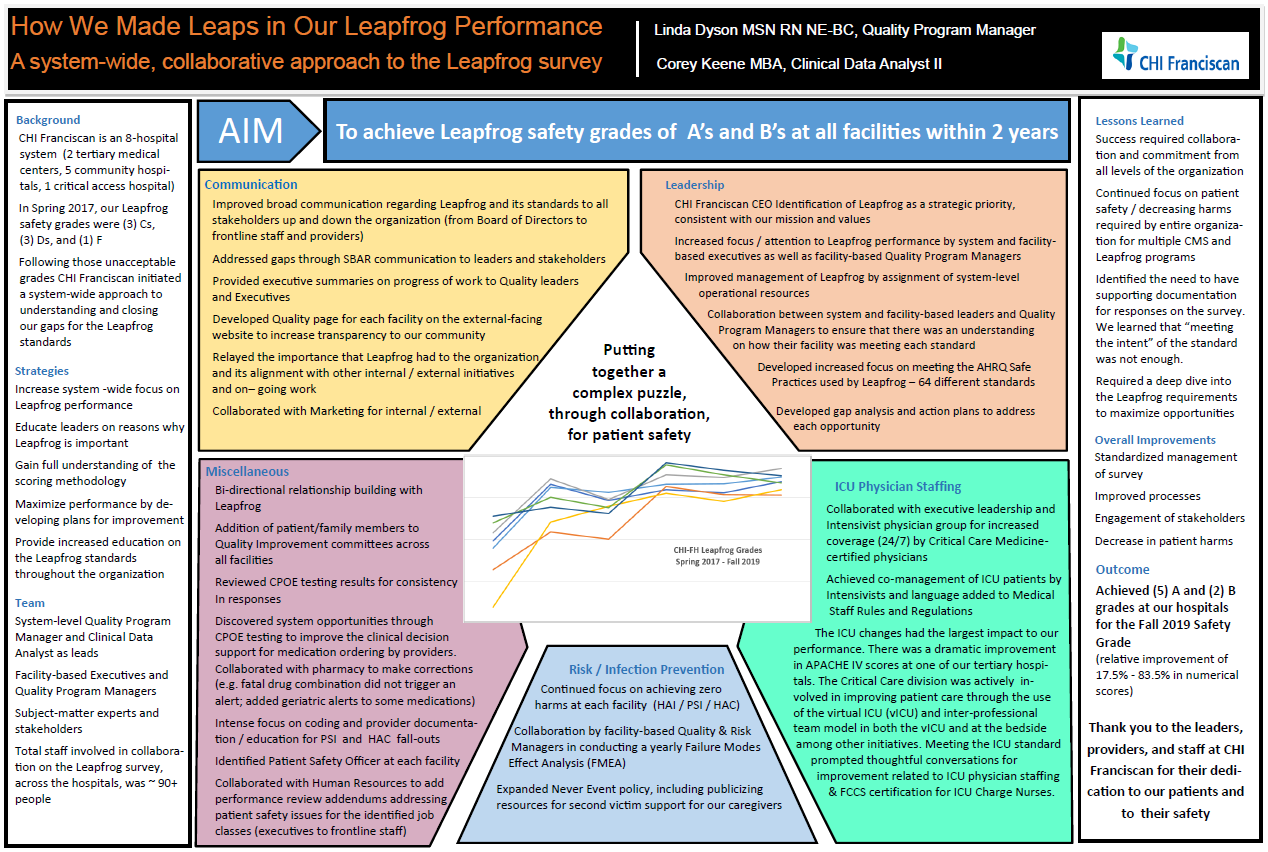 Interview with CHI Franciscan Health System CEO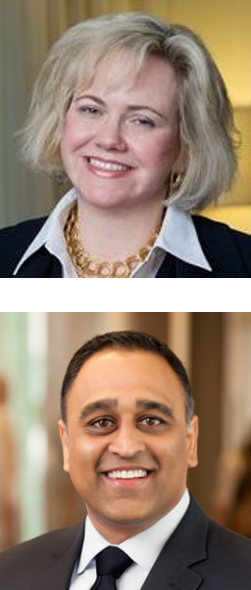 In the following interview, Leapfrog president and CEO Leah Binder has a discussion with Ketul J. Patel, CEO of CHI Franciscan and President of the Pacific Northwest Division of CommonSpirit Health, about their health system's journey to improving safety, quality, and patient experience.
Leah: Ketul, congratulations on this achievement. It takes strong leadership to be able to accomplish what your system has done.
Ketul: Thank you. I'm so proud of everyone in our organization. I lead CHI Franciscan in the Pacific Northwest, but also cover two hospitals in Oregon. We are part of CommonSpirit Health, which is one of the largest health systems in the country.
Leah: Patient safety is simple, but not easy. A respectful health system puts patients first. How did you start this journey to improve quality and safety across your health system?
Ketul: We have a great story to tell. I came to the Pacific Northwest in February 2015 and what CHI Franciscan was known for was being a strong financial enterprise. I thought we had strong quality and safety too, but our Leapfrog Hospital Safety Grade scores were all "C"s, "D"s, and "F"s. We were embarrassed by the results, which also led to a front-page local news story. However, when I spent time with staff and talked to patients, I felt we were providing great, high quality care. Our scores were a wake-up call to me that we had to make changes. I'm a big believer that sometimes you use these opportunities, like Leapfrog's ratings, to pivot and really demonstrate how strong of a system you are. We made a clear mandate that our top strategic priority was to elevate and be the leader in quality, safety and patient experience. Today, our system has the most "A"s and "B"s of any system in Washington State. We are very proud of this transformation. In fact, our B hospitals are very close to earning "A"s, so we hope to soon be the first system in our state with all "A" Safety Grades.
Leah: We will celebrate with you if you achieve all "A"s as a system, but what you've already accomplished is still extremely noteworthy. You've done a lot of education and communication to get to where you are today. Can you talk about that?
Ketul: As I said before, this was a wake-up call for us. There were a couple of critical things we had to do: first we had to look in the mirror and secondly, we had to make some changes. We started with making some key leadership adjustments. We brought in a Chief Medical Officer whose primary responsibility is to focus on quality and safety. We also did a national search for a Chief Quality Officer to build an infrastructure around what we need to do within our system to achieve the Safety Grades we have today. Lastly, we had to be highly communicative to our staff and to our patients. We wanted to express that the Safety Grades are real and that we have a strong focus on improving them. Our Board of Directors was also very clear that this was the top priority.
---
Support our efforts to advance the safety, quality and transparency of health care in America.
---
Leah: Transparency is really key to this. That is something you also excel at. It's transparent to begin with to report to the Leapfrog Hospital Survey. That's a high standard of transparency. But so is what you've done on your website and what you've communicated to your community and staff. This shows that transparency really does galvanize change.
Ketul: We want to showcase who we are and our commitment to exceptional patient care—he best way to do that is to share our improvement. Consumers and patients are demanding better and more convenient care and being transparent pushes us to be better. There is no employee in our system who wants to be a "B", "C", "D" or "F." Sharing our progress really helps us elevate our results and the care we provide every day.
Leah: That's great. This is really wonderful work for your community. In addition to transparency, you also had to cope with the COVID-19 pandemic. Your area was a hot spot in some moments in the last several months too. How have you kept patient safety a priority during this crisis?
Ketul: The reality is, you do not wake up one day and say you're going to build muscle that same day. One of the things we've done throughout this journey is to build that muscle over the last few years so we are prepared. At the same time, we've learned a lot from our partner Virginia Mason Medical Center, who has been really strong in quality and safety for the last decade or more. The pandemic has impacted everyone and our area was one of the first hit with COVID-19 earlier this year. There was a lot of fear and chaos. But our staff has worked hard to make safe environments—building on the quality and safety work we had been doing to ensure we could accommodate patients during the pandemic.
Leah: Do you think that having this renewed focus on patient safety impacted the safety of your workforce?
Ketul: We become what we focus on. When our Board and leadership made the statement that our top priorities are safety, quality and patient experience, we recognized that safety isn't just about our patients but also about our workforce. The bigger point is that our organization unified even more so during the pandemic. It's brought us all together and I'm so proud of our staff. It's been inspiring.
"I think if the Tacoma Tribune News hadn't published that negative story, we would have been happier, but the reality is that they did and we learned from it. It forced us to be better."
Leah: What advice do you have for other health system leaders that want to embark on a similar quality and safety improvement journey?
Ketul: Be transparent. You can't hide behind a bad Safety Grade and not recognize it. I think if the Tacoma Tribune News hadn't published that negative story, we would have been happier, but the reality is that they did and we learned from it. It forced us to be better and we talked about it collectively as an organization. It doesn't matter if we think we are providing the highest level of care to our patients if our results on Leapfrog are negative. It shows we need to improve. My advice to leaders is to embrace things that are being said about you. The good news is that you are being told what they are and now you can fix them.
Leah: Our constituency are employers, other purchasers of health benefits. They want to be able to work directly with hospitals. What advice do you have for them?
Ketul: When we received the lower Safety Grades, many of our payors were coming to us and saying "you know, this is where you stand" and it was impacting our payor negotiations and rates. The reality is employers are seeing Leapfrog results as well and really care about them. In our area, Group Health became part of Kaiser Permanente. We have a great leader there. One of the first things she said to me is "we have to be better" and that she's hearing it from physicians and employers in the community that we need to improve. I applaud the fact that she has embraced this and we have too. This focuses us and forces us to be a better partner for patients and employers.
Leah: I know employers appreciate that and want to see improvement and celebrate with you. We thank you for your service during this pandemic.
Ketul: I can't say enough how proud I am of our team. They've done great things over the past 5.5 years and also during this pandemic.
Leah: We applaud them with you.
About CHI Franciscan
CHI Franciscan is a Catholic nonprofit health system based in Tacoma, Washington. One of the largest health systems in Washington state, CHI Franciscan is comprised of more than 12,500 physicians, advanced practice clinicians, nurses, and staff that provide expert, compassionate medical care at 10 acute care hospitals and more than 220 primary and specialty care clinics throughout the greater Puget Sound. As part of CommonSpirit Health, and as a member of every community we serve, we bring together medicine, kindness, respect, and compassion to help people truly begin to heal. We honor our values and legacy by investing in our communities. In 2019 we provided $197 million in community benefits, including free, subsidized, and reduced cost health care and programs. We are also the only Washington state hospital system that accepts an unlimited number of Medicaid patients. Follow CHI Franciscan on Facebook facebook.com/chifranciscan, Twitter @CHIFranciscan and Instagram @chi.franciscan.