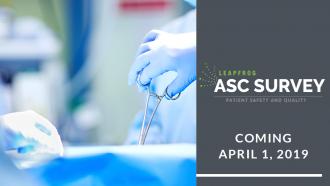 In response to requests from ambulatory surgery centers (ASCs) across the United States, The Leapfrog Group announced today that it will open the first annual Leapfrog ASC Survey to any licensed ASC in the U.S. In October 2018, Leapfrog announced the planned launch of its first-ever Survey of ASCs and hospital outpatient departments. At that time, Leapfrog planned to cap participation for the first Survey year. Today's announcement reverses that decision and invites participation from any ASC.  
Starting April 1, all licensed ASCs in the U.S. will be able to submit patient safety and quality information via Leapfrog's annual national Survey. In 2019, data collected by Leapfrog from ASCs, and similar information collected from hospitals regarding the safety and quality of outpatient procedures, will be aggregated in a national report with individual benchmarking reports sent privately to participating facilities. Beginning with the 2020 Survey, ASC and hospital outpatient department results will be publicly reported on Leapfrog's website to deliver unbiased and transparent information to patients seeking more information about the facilities in which they receive care.
The Leapfrog Group will gather data from ASCs on several important areas of care including basic facility information; medical, surgical and nursing staff; volume and safety of procedures; patient safety practices; and patient experience. Like all of Leapfrog's programs, the new Survey will be evidence-based and predicated on the latest science, developed with guidance from Leapfrog's national Expert Panel and the Armstrong Institute for Patient Safety and Quality at Johns Hopkins Medicine.
"We are encouraged by the overwhelming response we've received from ASCs following the announcement of our national ASC Survey that will be launching this spring. With thousands of ASCs operating in America, and virtually no independent data about the safety and quality of these care facilities, there needs to be an unbiased source of data to protect and inform patients," said Leah Binder, president and CEO of The Leapfrog Group. "The ASC community's interest in participating shows they're willing to be part of the solution. Working together to report on ASC performance is a lynchpin of transparency, which is critical to improving our health care system."
As a national health care nonprofit driven by employers and other purchasers of health care, Leapfrog will work with its Regional Leaders, representing business groups on health in almost every state, to invite licensed ASCs and hospital outpatient departments to voluntarily report data. This is the same process Leapfrog has undertaken with the Leapfrog Hospital Survey, which has been gathering information about the quality and safety of inpatient care for almost 20 years.
ASCs or ASC networks interested in reporting data should contact Leapfrog's Help Desk. In addition, Leapfrog will be hosting two free town hall calls on Wednesday, March 27 from  2-3 pm Eastern and Tuesday, April 23 from 2-3 pm Eastern to provide ASC leaders and administrators with more information about the content of the Survey. For more information, visit www.leapfroggroup.org/ASC.