10 Year Anniversary Gala
On November 30th Leapfrog celebrated ten years of working to get health care right with almost 400 members, hospitals, and supporters in downtown Washington, D.C.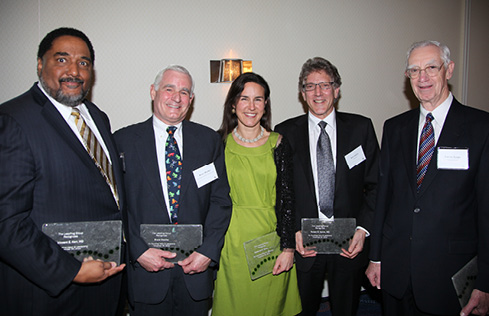 The evening kicked off with greetings from special guest U.S. Secretary of Commerce Gary Locke and Leapfrog Board Chair David Knowlton led a special recognition of some of Leapfrog's founders: Susan Delbanco, Lucian Leape, Bruce Bradley, Vincent Kerr, Robert Galvin and Arnold Milstein.
Cristie Upshaw Travis, Executive Director of the Memphis Business Group on Health, long-time Regional Roll-Out and former board chair acknowledged all of Leapfrog Regional Roll-Outs, members, partners, and expert panelists who have all contributed to Leapfrog's success over the past decade. She called for a standing ovation for Leapfrog's former and current staff.
Leapfrog founder, Arnold Milstein, joined the Gala by satellite to announce findings from a new Business Roundtable study which credits Leapfrog for improvements in patient safety. The study notes that "the United States is gaining ground on international competitors in terms of health system value (cost and performance) as of 2007, the most recent year for which data is available. Advances in quality – particularly reducing hospital errors – drove the overall improvement."
David Goldhill, CEO of GSN and Leapfrog board member, delivered a powerful keynote address that emphasized the inevitability of increased transparency in the health care market place and the role of social media and consumer feedback in driving continual improvements in hospital performance.
Ms. Binder recognized Leapfrog's 2010 Top Hospitals, and thanked all hospitals that voluntarily report to Leapfrog and in doing so earn the trust of the communities they serve. Leapfrog also honored two Top Hospitals of the Decade, The University of Maryland Medical Center and Virginia Mason Medcal Center, for their outstanding performance on Leapfrog's Hospital Survey over the past decade.
Download the program  |  View more videos  |  View photos